Chiefs - Raising the Bar !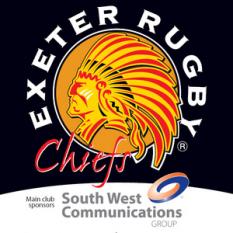 Sandy Park
By CJB
September 7 2009
CJB gives a personal view from Saturday's game at Moseley and a rallying call for Chiefs supporters.
Chiefs - Raising the Bar !
a personal view
by
CJB
Simple mistakes and unforced errors punctuated the opening moments at Moseley on Saturday.
Our boys were nervous, tense and tight as a drum skin perhaps. No bad thing nerves, just another part of the learning curve that WILL take Ex. onwards and upwards in a movement that is unfolding in-front of our eyes.

Despite some minor Chiefs mistakes, a highly charged Moseley never looked like breaching our defensive line. Their 6 point penalty haul was all I thought they were going to get.

Quite what the first penalty was for still escapes me, as it did the Moseley fans sitting around me on Saturday. However, the said penalties and a ridiculous Yellow card served to make life tedious for our lads and spiritually uplifting for the Moseley faithful, they had little else to cheer.

Whatever defensive practice and system Rob Baxter and the back room boys sorted in the pre season, is certainly working! Breaching a fully focused Exeter Chiefs defence is going to be tough for anyone in this seasons Championship.

The defencive organisation: shape, cover and tackling efficiency of the 2009/10 Chiefs has more then impressed me in the three games I've seen. No defence is impregnable BUT I firmly believe it will be easier to raise a 100% mortgage loan from impoverished Banks than to break our defensive line….. IF we stay fit, focused and motivated.

Clearly a very good coaching job has been done on the defence. Similarly our POWER game is, as ever, looking in good shape. Moseley struggled to hold the power plays coming from our pack, but we come to expect this from a BAXTER Coached side.

Robbie has always been good at the 'Stick it up your jumper and drive into them" Route One stuff.
OK .. Very important that we meet the up front challenge and assert physical ascendency in the forward battle, Ex have been masters of this for years ……
BUT the surprise to me, and I assume many others of the travelling fans was the ambition and dexterity of our passing game.

In producing the complete team GOOD Defence is Essential, BUT so is a cutting edge OFFENCE that scores points !!

It was legendary Liverpool FC Manager Bill Shankley who once asked a critic,
"If they score 4 but we score 5 does that mean we win?"
[/i]

In my lifetime I've seen English Rugby dominated by BIG packs beating up the opposition. The odd forward pushover score and penalties that set up the 'Dead Eye Dicks' at No 10, have so often decided the game simply by kicking the ball through the uprights.

I suspect the back room blue print for success of many ambitious clubs over decades has been based on the SAFE aspiration to Win up front and kick our penalties.

How refreshing then when fast minds, fast hands, fast runners and fast moves combine to open up a defence setting a player away on a scoring run. The crowd on its feet, voices raised and the razor sharp Matador thrust of the runners is seen to overcome the brute force of the Bull.

Hey Ho the wonder show of fluid total running rugby is usually restricted to Southern Hemisphere, NPC and Super 14s, BUT for those who travelled on Saturday OUR BOYS DID IT….. And did it again and then they did it again and again …..

There was no shortage of grist and grunt but the movement of the ball from hand-to-hand in fast flowing wide ranging moves was sometimes mesmeric, consistently good and always exciting.

Chiefs ambition to keep the play alive was inspirational and the visual spectacle quite magnificent.

OK … Concentration and focus may have lapsed to allow Moseley a final quarter flurry BUT with a 50pts - 6 score line AWAY from home the job had been done.

Exeter Chiefs really look the full package this season. Great credit must go to all concerned. The task now is to BUILD on what we have. Keep our feet firmly on the ground and move forward with confidence and ambition. Yes, there is a long way to go BUT if we continue to build and develop on what we have, the future IS bright and the future is ch… Ch… CH… CH… CHIEFS

Going the EXTRA MILE !

In any team there are many parts. Players, Coaches, Medics, Promoters, Directors, Sponsors, Publicists, Administrators etc etc etc.
There are also the FANS ..
We have a role that we can play SUPPORTING OUR TEAM reach the heights IF e go the extra mile !

OK we pay our money at the gate, we buy the concessions and we shout our encouragement from the terraces. BUT there is MORE we can do IF we have a mind to.
Please read on.

I was pleased to spend an hour or so at Sandy Park on the FUN DAY organised by the Club on the Sunday following the first Sale Game. What I saw was so much more than A FUN DAY… It was a good dy, ideed a very GOOD DAY, in every respect.

Families walked over the field to meet the players who had a variety of games, tasks and challenges for ALL to enjoy.
There were guided tours around the club facilities and a very impressive Team Coach that will be the envy of the Rugby world. Youngsters were signing up for the Junior clubs and supporter packages.

The 'CHIEF' was strutting his stuff, Bentos was orchestrating events on the Mic, directors were looking on with justifiable pride and the atmosphere on a cold day was warm, friendly and re-assuring. Members of the community were uniting in the shard pride of our club. B-R-I-L-L-I-A-N-T

Exeter and surrounding region I urge you all to see what is on offer. REALLY GET behind the Chiefs. Canvass the Press, Media, local politicians, councilors, local commerce and industry to open their eyes and see what a brilliant asset our community has with the Exeter Chiefs.

Pin your colours to the mast (or Totem pole if you like) Combine our efforts to raise the profile and build the whole community support of our lads

We really can build a sporting dynasty here in this wonderful region of Devon.

When a critical TV interviewer gunning for Bill Shankly asked the question

"Football is viewed by many as a matter of
life and death. How do you feel about that?"[i]
Shankley drew breath and speaking slowly in his dour Scottish accent replied

"No, No son… it's much more important than that!"

Whatever your standpoint on Sport, there can be no denying the huge effect for GOOD it can have uniting a community under a shared banner.

We have OUR Chiefs let's all do our bit to raise the profile and build our club into an irresistible force for all that is good in sport for our community right here in Exeter, Devon.
More Exeter Chiefs headlines
Exeter Chiefs Poll