Spotlight on The Tribe 4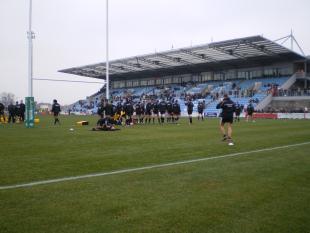 Sandy Park
By Moorsman
September 23 2009
DEvon Andy features in the latest Spotlight feature.
Tribe Name: Devonandy

Age: 27

Profile: Just bought a house in Exmouth and get married in less than two weeks; stressful times

Why do you support rugby?: At first I got into rugby as wanted to do something at the weekend and I got given free tickets for the Pirates game, then I went on a trip to Twickenham, had a great day drank the train dry and it went on from there.

What's your experience of playing the game? (I wasn't allowed to play rugby at school as can't see a thing without my glasses. So my only experience is when my school decided to do a different type of school photo and had us pose throwing a pass with a rugby ball. Unfortunately as I wasn't allowed to wear my glasses I ended up squinting and not looking at the camera. A total disaster.

What's your best memory as a spectator? Probably the Twickenham trip, when we played Northampton, as come from a watching football background just to mingle with the fans there then meeting up with people on the way home was just great fun.

Why do you support Exeter Chiefs and how long have you been following them? They're a local side and it gets me out of the house on a weekend. Have been supporting them for 3 years, 2 as a season ticket holder

How many live games do you see a season? As a seasonticket holder I go to as many as possible, I think I missed one last year. I know I'll be missing 2 this year but hopefully that'll be it.

Do you go to any away games? I've been to Pirates for the last 2 years and went to Albion last year. Will be doing both of those again this year. It's a shame to be missing Bristol but we might meet again in the playoffs

What's your particular matchday routine? My matchday routine does vary slightly depending on who else I'm with. Today for instance as I was going to be in the Shed by myself, got a lift to the ground about 2. Got a pint and wandered over to the shed, sat over there reading a programme, and always remember to take a choc bar or some kind of food for half time. Pork pie today very good :-)

What's your favourite thing about rugby? The general atmosphere around the place, the mixing of fans can always make for an interesting view of the game. For the Bedford game last year had their chef stood behind us in the Shed, very noisy but good fun.

What's your least favourite? The constant resetting of scrums, for one scrum today at least 4 minutes were taken for it to have been taken properly and then Chiefs won a penalty, the scrum still didn't happen.

Do you watch any other sports? I'm still a big football fan and enjoy watching f1. to be fair there are not many sports I dislike apart from Sycronised swimming and lacrosse.

Any general comments about the club or the game? Whilst the matchday experience is good at the club the management need to ensure that they do not price the fans out of the club, look at beer prices at the moment. £3.10 for a pint of Strongbow and £3.45 for a pint of guiness is just too much and ok you will find people will drink during the game but you just won't get the numbers staying after the game.
(details supplied following the Donny game)
View a Printer Friendly version of this Story.
Spotlight on The Tribe 4
thechiefstribe.com (IP Logged)
23/09/2009 19:50
What do you think? You can have your say by posting below.
If you do not already have an account
Click here to Register
.
Sorry, only registered users may post in this forum.
More Exeter Chiefs headlines
Exeter Chiefs Poll