Nah, we were rubbish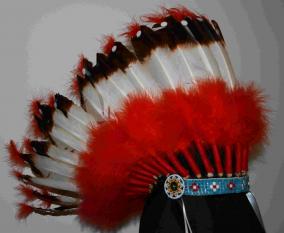 warbonnet
By Moorsman
September 27 2009
Albion fan "you were lucky", Chiefs fan "Nah, we were rubbish". This snippet of an overheard conversation set me thinking...
Match Review
Chiefs 30 Albion 24
Albion fan "you were lucky", Chiefs fan "Nah, we were rubbish". This snippet of an overheard conversation set me thinking...
My initial thoughts after the match were along the lines of the Chiefs fan in question and had I written this shortly after full time would have reflected that. However I've had time to mull it over and I can share a more considered opinion with you. This isn't a review of the match but a look at things from the Chief's perspective. But I will say how impressed I was with the way Albion's backs went about their business.
There's no doubt that any side needs an element of luck to gain victory but I think the Chiefs are showing evidence that 'the harder you work at something, the luckier you seem to get'. We're just four games into the 'league' element of this season's Chamionship and almost all of the Chiefs squad who are available have had game time. So, lots of changes in each match and we've managed four wins from four with Albion being the first opposition side to go away with a point from those games. I believe the most important issue here is winning games. This season is all about being able to win, as promotion to the Prem will rely on a side being able to win just one game, the final. There is no way the Chiefs were 'rubbish' against Albion but there is certainly room for improvement. I'm sure the coaches are well aware of this and are using the 'league' to determine the best combination of players. The players will be looking to impress and improve as the season progresses. After all there are a lot of new faces around who need to build an understanding of each other's strengths and weaknesses.
Regarding the Albion match here's a few observations...
Negatives:
Kicking - still too much of it and some of it appeared pretty aimless

Missed tackles - the 10 channel looked vulnerable and players seemed to be watching the runner instead of attacking him.

Knock on - ball retention in the tackle wasn't great and we spilled the ball too many times.

The line out still isn't firing on all cylinders.

Booing - never acceptable in my book. Fans were frustrated at the refs actions or lack of! but let this continue on whilst the kick was in progress. There was also some unmannered noise when Albion's 10 was approaching one of his kicks. He may have the most unusual approach but fans need to respect this not take the micky. Whilst I'm on this subject I think he may have problems on wet and boggy ground with this style?

The crowd seemed very 'flat' yesterday, not the usual passion of a Devon Derby.
Positives:
Another win, four from four with lots of changes in the matchday squads.

We never really looked like losing

The scrum was solid as a rock. I thought the ref did a good job here with only a few re-sets late in the game. Perhaps he could show a few others how he manages this?

The backs showed great pace and a cutting edge.

Scaysbrook is great to watch and must be a right pain to play against.

Tui seems to have something of 'Chicken' about him when he's got the ball in hand.

Richie Baxter seems to be playing with great freedom since stepping down as captain.

Danny Gray kicked well and Steeno continued his near faultless kicking when he came on.

It was great to see Nic Sestaret back and clearly enjoying being on the field again.
What might be seen as a dissapointing performance is part of a developing team finding it's feet. We'll no doubt see similar days but as long as we keep winning whilst improving I'll be a happy Chiefs fan.
More Exeter Chiefs headlines
Exeter Chiefs Poll