8 wins from 8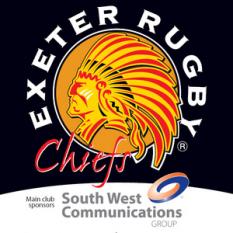 Exeter Chiefs
By Moorsman
October 25 2009
Exeter Chiefs are top of the Chamionship with 8 from 8 and nobody's excited.....
Chamionship Farce?
Exeter Chiefs are 8 wins from 8 starts, top of the pile and I suspect I'm not alone in feeling short changed by the farcical arrangement of this league.
In a 'normal' season this situation would see a swell of support and discussion on The Tribe message board. This season, it's ticking along at a steady rate but feels like everything is in limbo. Don't get me wrong, I'm really pleased with the way the new coaching setup and squad have performed. I'm also sure we haven't seen the full potential of this years Chiefs yet. Full marks to Rob Baxter and the coaches for keeping motivation on the pitch at such a high standard.
BUT.... when promotion this season will be decided by 1 game, in May 2010 any victory in the 'league' feels a little hollow and it feels like there are more than a few fans finding it difficult to maintain their motivation. I think we are already seeing this with reduced attendances at Sandy Park although we do still have a sizeable 'hardcour' supporter base.
I can't see the British and Irish Cup promoting much more interest either. What sides are going to risk valuable player fitness etc. for the chance of a trip to Twickers when the real prize is still up for grabs. Even though it presents us with two more Wet Country derbies I don't think these will have the same bite as league encounters usually do. The introduction of opponents from Ireland, Scotland and Wales adds some interest but a knock-out competition would have more appeal for me.
So, what have we got? A series of almost meaningless games, until we reach the play-offs. At which point the whole thing could end up as a lottery with the eventual outcome dependent on luck as much as skill.
Added to this the eventual winner will be in the position of having to recruit players for the Premiership with very little time before the season commences.
This may be a negative view of The Chamionship but it's how I'm feeling about it. What about you?
More Exeter Chiefs headlines
Exeter Chiefs Poll