A bit of nonsense!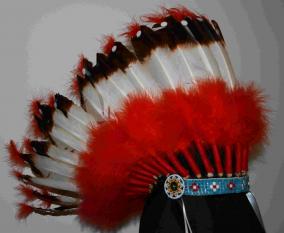 warbonnet
By Moorsman
January 9 2010
no match to preview or review because of the weather. so I came up with the most unlikely team selection I could think of.
The Unlikely Lads
Not having a match to preview or review set me thinking about what I could write to keep the site 'alive'?
Well, some recent selections, Nic Sestart at centre etc. and Michael Stupple being listed as either playing at 8 or Centre, set me thinking about what position other players could end up in.
Not much fun in putting the obvious together so I've opted for the most unlikely 15 I could come up with. So, here goes.....
Sean Tomes - an imposing site for any front row to face
Nic Sestaret - might find himself 'hanging' from his props as hookers used to
Chris Bentley - a book end to ST
Bryan Rennie - Plenty of beef and power in the legs, good hands for line-outs
Emyr Lewis - should be quick to the breakdown and good hands
Clive Stuart-Smith - can use all those 'niggling' skills from his 9 play
Haydn Thomas - as with CSS
Josh Matavesi - good hands and running at the opposition
Chris Budgen - speed of pass is the key here as well as sniping round the scrum
Tom Johnson - good hands, great running but not too sure about his kicking
James Scaysbrook - good hands and likely to go looking for the ball
Tom Hayes - good hands and power to break the line
Chad Slade - as with TH
Brett Sturgess - speed down the wing
Andy Miller - would be keen to run the ball back, tiger in defence
I could almost talk myself into believing this side would work
What do you think and who would you chose as your most unlikely 15?
More Exeter Chiefs headlines
Exeter Chiefs Poll