Chiefs win 1st game in Premiership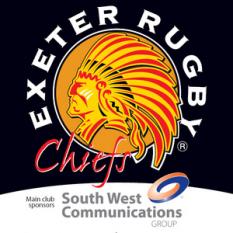 Chiefs Flag
By TCB
September 4 2010
TCB reviews Exeter Chiefs maiden victory in the Premiership.
22 - 10
EXETER CHIEFS ARRIVE IN THE AVIVA PREMIERSHIP
Saturday 4th September 2010 saw Exeter Chiefs first game in the Aviva Premiership. It was also my first ever Premiership game. I've seen quite a few International games but I'd never been to a Premiership match so it was a first all round.

The Chiefs first game in the Aviva Premiership was a mouth watering clash with ex Champions, Gloucester who made the trip down the M5 with at least 10 Internationals in their starting 15. Nothing like a baptism of fire.

I decided to get to the game a little earlier than normal and arrived at Sandy Park around 1.30pm and was surprised to find that there were not that many people there. However, when I went down the steps towards to the Undercroft Bar I thought we had been invaded. Cherry and White shirts were everywhere, the East Terrace North looked to be overrun with them. It was good to see though and I quickly took up my position in East Terrace North with about an hour to go.

The ground very quickly filled up as kick off approached and I could feel the excitement, apprehension and nervous tension rising. To be honest though I'd been like this for the last 3 days.

A great roar greeted the team as they came out for the warm up and the roar got ever loader when the warm up was finished and they trotted off the pitch. This was nothing though to the noise that greeted the team when they came out from the tunnel for the first time as a Premiership side.

The match could not have started better for Exe. After some great play taking them down towards the try line in front of the North Terrace the ball went wide and great hands got the ball to Foster who touched down to a wall of sound from the Home support. The Chiefs had announced their arrival in the Premiership in some style. Steenson converted but you wouldn't have expected anything else really.

You knew Gloucester weren't going to take that lying down though and they came back into the game and scored a well worked try. They didn't have a Steeno though and missed the conversion. In fact, their kicker missed all his kicks during the game which could have put a completely different reflection on the game. Luckily though, he had read the script.

Just as in the Championship Final games against Bristol, this was to be Steenson's show. A faultless display of kicking settled our nerves (a little) and we went into half time 16 - 5 to the good.

Gloucester had obviously had a rocket put up their backsides at half time and came out all guns blazing in the Second Half. The lead was reduced by their second try which came after some relentless attacking. Guess what? They missed the conversion but you already knew that.

So it was back to the Steeno show. Penalties, Drop Goals, you name it, he can do it, or so it seems. The game ebbed and flowed, mistakes were made on both sides which added to the tension but slowly the Chiefs just kept extending the lead.

Gloucester kept trying to come back and very nearly scored their 3rd try near the end but a fantastic try saving tackle (didn't see who it was, I was on the opposite side of the field) saved the day and that was Gloucester's last real chance. The Chiefs closed out the game for a 22-10, well deserved victory.

What a fantastic day. Just over 9,500 fans, although I thought it was more, made for a brilliant atmosphere. I think today was probably the best atmosphere for any Exe game I've seen at SP and I've not missed many. The Tomahawk Chop has certainly made it's mark.

Although there were a lot of Gloucester fans at the game, and it was great to see them there, they didn't have too much to cheer about. Whether the Gloucester team were poor on the day remains to be seen but certainly the Glos fans I spoke to after were very disappointed with their team.

Today though belonged to the Exeter Chiefs. To a man, the whole team stood up and were counted. Not a single one of them was found wanting and if they can continue and improve upon today's performance then we should continue to raise a few eyebrows and turn over a few more teams yet.

As for me. I can't stop grinning, I've just about lost my voice and I can't wait to read all the press reports on Sunday. There will be a lot of humble pie being eaten I hope.

To finish on a cautionary note, this was only one game. Next week will be a massive test against Leicester Tigers and the rest of the season thereafter will be just as tough. However, we couldn't have wished for a better start.

WELL DONE EXETER CHIEFS.
More Exeter Chiefs headlines
Exeter Chiefs Poll