Spotlight on Stuey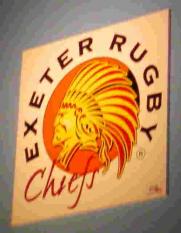 Chiefs
By Moorsman
May 21 2011
It's the quiet season so we have time to put the spotlight on The Tribe
Spotlight on The Tribe
Tribe Name: Stuey
Age: 42

Profile: I live in Seaton with my wife Cathy and our dog Ozzy, a flat-coated retriever. I work in Exeter as the manager of a team of software developers.

Why do you support rugby? I really enjoy the respect that exists both on and off the pitch. The sport is so much more welcoming than football for example.

When did you start watching (or playing) rugby and why? I played at Colyton Grammar school when I was a teenager, but as I was a tall skinny weakling I was always picked last. Quite rightly too, as I was a very poor player! I couldn't tackle and I panicked when passing, badly. I remember being the last line in defence and with "the school bully" running straight at me all I had to do was tackle him for fame and glory. I didn't get close as I got pushed over and had a hand print on my chest as a souvenir! I started watching rugby around the same time. My Dad and I always used to watch the internationals on TV, and we went to Twickenham once for England V Australia (England lost).

Which players did you/do you admire? The world cup winning squad from 2003 are pretty special, Martin Johnson and Jonny Wilkinson standing out of course. As for the Chiefs, James Scaysbrook and Chris Budgen are right at the top of the pile. Scays for his 100% commitment and the way he congratulates his team mates when they do something good. Budgie because he is often still putting in nearly 80 minutes in what might be his twilight years and the crowd all love him.

What's your best memory as a spectator? The first premiership game this season against Gloucester was such an exciting experience. Cathy and I, at one of our first Chiefs matches together, were sat in the SW Comms stand amongst a large number of Gloucester fans. The friendly rivalry banter was fantastic, and the result even better. Handshakes and hugs all round afterwards!

Why do you support Exeter Chiefs and how long have you been following them? Although I'd seen the Chiefs play at the County Ground a long time ago, we'd been following the more recent progress of Exeter Rugby Club on the TV and in the local press for a few years when Cathy thought it would be a nice idea if we started going to watch them at Sandy Park, as a couple! Something that was a common interest for us both, rather than 'my' mountain biking or 'her' horse riding of old. Our first match was the first leg of the play off final in May. We loved it, and we were hooked!

What has pleased you most about the way the club's developed over the last few years? The move to Sandy Park, the development of the conference facilities to support the business have been pivotal, but the way the club has created a real family atmosphere, where both supporters and players feel part of that family.

How many live games do you see a season? We've been to most of the home matches, but Cathy works occasional weekends so that causes a few problems for "our" hobby when I go without her!

Do you go to any away games? We went to the Gloucester game in January, stood in the Shed with the "enemy" and had a great time! An eight try blinder of a match, very exciting, a great atmosphere, great fun, but with the wrong result.

What's your particular matchday routine? We like to get to the ground early so we can get a good place to stand, either in the Karrimor or more recently in the East Terrace North. No other routines really, other than making sure that we are wearing our shirts!

How do you think the coverage of the Chiefs and rugby union compare with other sports in the region? It is frustrating that the region's only premier sporting team always plays second fiddle to the footie teams, but we all know it's better, don't we?

Do you watch any other sports? I enjoy watching motorsport, but I'm not as addicted to Formula 1 as I used to be. It got boring, Rugby got better!

Do you watch rugby on TV. If so is it club games, internationals or both? I'll watch the Aviva highlights on ITV4 and the internationals that are televised on terrestrial TV.

Do you watch on terrestrial, satellite or cable and how does the coverage compare? I cancelled my Sky subscription last year, and never had Sky Sports or ESPN anyway, so I only watch at home on terrestrial. A Chiefs fan colleague at work has Sky Sports, so that is my backup for certain televised away games!

How long do you think it will be before we see the Chiefs in the Guinness Aviva Premiership and what do they need to do to achieve it? Well this is an old question now irrelevant, but I'll turn it around and say that with the first years performance I can see Exeter Chiefs being a Premiership team for a very long time.

Any general comments about the club or the game? With lots still to learn about the game, The Tribe forum is a great place to find out about facts, gossip, and interesting insights into the Chiefs and rugby in general. It's also a bit like a family where not everyone gets on all of the time, but everyone is on the same side and we all enjoy a common interest. Chiefs Chiefs Chiefs!!!
More Exeter Chiefs headlines
Exeter Chiefs Poll