Referees Love 'em or 'Hate 'em.....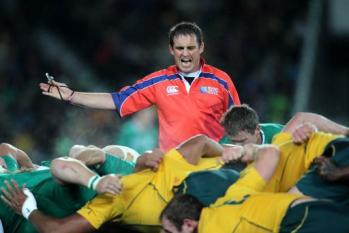 Ref
By Moorsman
January 3 2012
This season has seen much debate on The Tribe and other SN sites re refereeing standards etc. Well here's a chance to see how much you know!
The Man in the Middle
Love 'em or 'hate 'em? That seems to be the sort of extreme attitude many rugby supporters adopt when commenting on the ref's performance in their teams latest match. It's certainly developed as a theme on the Exeter Chiefs message board with some unbalanced? views resulting in this post from Tommy Hawkeye:
In praise of and thank you to referees
I have to say I am ashamed of some of the comments made by "so called" Exeter Chiefs supporters in recent times regarding referees. Some comments have been in such poor taste that the posters not only show their lack of knowledge of the game and basic intelligence but could even leave themselves open to legal proceedings. A continuous stream of such comments could even lead to the closure of what should be an enjoyable site where we can all share views and banter. Not to mention of course the number of visitors to our site from other clubs who will soon start to see us as a bunch of whiners.
For the record I'd like to thank all referees for the thankless task they perform week in and week out. They are not perfect and will, like the rest of us, make mistakes but I will tell you one thing they won't do is knowingly cheat or be bias against any team.
Referees like players love what they do and they work just as hard as players to deliver their best possible performance. Unlike many other sports they also mix with players and exchange views about the game which will hopefully improve both player and referee in the future. Contrary to what many may think they also have a great sense of humour and if you ever get the opportunity to attend one of their dinners never turn it down because you'll have a great night.
I believe the Premiership has the best collective of referees in the world and we are very fortunate to be officiated by such a group. So to the few who spoil it do me a favour in future and when we lose accept it with the good grace.
This set me thinking about my own knowledge and reminded me of a site I haven't visited for a couple of years. A quick search led me to the following link where you'll find a Laws Quiz:
If you're still not sure here's a link to the IRB site where you'll also find Law application guidelines:
IRB Laws of the Game Rugby Union
I think you'll find it instructive and somewhat humbling (I did) as it's not easy even with plenty of time to think about your answer. How much more difficult it must be to get it right during the hurly burly of a fast paced Premiership game?
Good Luck and it will be interesting to hear how you get on (be honest).
More Exeter Chiefs headlines
Exeter Chiefs Poll