Exeter Chiefs 31 Perpignan 14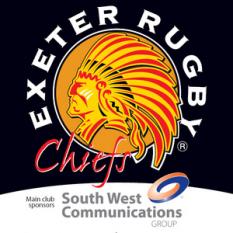 Chiefs Flag
By ExTeddChief
January 23 2012
ExTeddChief gives an emotional review of Chiefs v Perpignan
Match Review
Exeter Chiefs 31 (10-80 min) Perpignan 14 (0-10min)
They were calling it Le Crunch. That's the term usually used for England vs France internationals but let's face it, we were probably talking about the biggest Chiefs game since I moved here. Get 'a result' and we were through to the Amlin Cup quarter finals. That's a pretty big deal. Perpignan were no mugs though and both sides were fully loaded. This match was going to be unreal.

As it was though I happened to have a few other things to occupy my mind. First up an early wakeup so I could watch Andy Murray in the Australian Open. Then off to watch the youngest member of the family Tribe compete in the Devon schools Cross Country championship. Then off for lunch at my grandparents place and finally off to Sandy Park.

By the time I got to the NWT there were just a few minutes to go. The scoreboard was busted and I barely had time to register that "Le Crunch de Chiefs" was about to start when the game kicked off.

Well in the first couple of minutes we didn't seem to be doing that badly then out of nowhere, Perpignan got a try, Charles Gelli getting the credit, James Hook converting. Then it happened again, Joffrey Michel running over the line, Hook again converting. It looked like the serverest of reality checks.

Except that from the restart we charged right into them, grinding our way into the opposition half until we eventually got a penalty which Mires booted over. Then we kept going and Mieres slotted another pen at which point we started to believe and a guy recognised me from the article I did in the Echo a few weeks back!

After such a disasterous start you dared not tempt fate but the guys on the pitch did not seem to care about that, this game was certainly nowhere near over and as the game came down our end the target was clearly the tryline. And then one of their guys got binned for some out of order defending. Ball to the corner lineout into Richie Baxter...the guys drive the visitors to the tryline and down! Thomas takes the credit, Mieres slots the conversion and suddenly this game is on! It looked like another reality check was on the cards though when Hook was given a pen but he turned out to be less than bulletproof from long range. Going in at half time one point down? That would have done me but Mieres had other ideas and slotted a pen to give us the lead going into the interval. Perpignan, Heineken Cup semi finalists from last year had just been hit by the Chiefs rollercoaster!

At half time, well my grandfather was calling it the best Chiefs performance he'd ever seen and Rob apparently had nothing to complain about whatsoever. Still, this was too good to be true surely, there was a long way to go.

Sure enough Perpignan were not in the mood to lie down but when Hook blew an early pen the sense of unreality just went up a notch. Furthermore the Chiefs then fastbreaked and Mieres showed the Welsh star how it should be done!

The clock ticked to glory and the Chiefs were surging into Perpignan territory one more, amazingly it seemed as though it would only be a better of time before we got a second try...and sure enough Sturgess surged into the far corner to seal it. At this point, I was having to blink back tears.

And yet we were not done, with Philips barrelling over for the Chiefs third try, Steeno converting. At this point I kept flashing back to what the ESPN crew said about us after the Northampton game last season "Pinch them, they think they're dreaming". I'd been unable to make it to that match. Before the end, my new found fan bailed out.

Full time, and I'm not particularly fast in getting out of the ground. The last time a Chiefs performance felt this unreal? 26th May 2010. Except this time it was even more so. Up the West Stand steps. Look back at the scoreboard. Chiefs 31 Perpignan 14.

"I'm definitely 'ing dreaming"

Exeter Chiefs. Amlin Cup quarter finalists. With that performance. It's taken a while to sink in. Well it certainly should have done because now I have to work out if Paris in April is doable!
View a Printer Friendly version of this Story.
thechiefstribe.com (IP Logged)
Unregistered User
Exeter Chiefs 31 Perpignan 14
What do you think? You can have your say by posting below.
If you do not already have an account
Click here to Register
.
Reply•Quote
Moorsman (IP Logged)
Registered User
Date Joined: Dec, 2006
Location: West Stand, Row P, Seat 156
Posts: 4237

black_otter (IP Logged)
happy daze
Date Joined: May, 2010
Location: West Grandstand, C196
Posts: 2286

Little Plums (IP Logged)
Um big heap Chiefs supporter
Date Joined: Sep, 2011
Location: ETN
Posts: 1254

Sorry, only registered users may post in this forum.
More Exeter Chiefs headlines
Exeter Chiefs Poll