A win at a very wet Wasps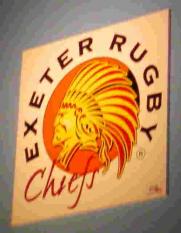 Chiefs
By Exeforever
February 21 2012
Exeforever reviews the Chiefs winning double at Wasps
Wasps 12 Chiefs 15
This was never going to be a pretty game. Desperation in the Wasps' ranks and the inevitable safety first approach to an away game that we were expected to win but which could so easily turn into a banana skin dictated the tactics. Add in rain that at times was driving horizontally on a fitful wind and a pitch shorn of grass that made keeping your feet precarious and you had all the ingredients for an ugly game, and so it turned out.

Wasps started far the brighter and but for an inexplicable miss by Robinson would have been 6 points up. Somehow Exe hung in there and slowly but surely the penalties came. Nacho was absolutely outstanding in his place kicking all afternoon in contrast to Robinson who missed two touch finding penalties as well as an easy one and Daly who missed a long range penalty. Those misses were the difference at the end between victory and defeat.

The scrum wobbled in the absence of Sturge and the lineout was a nightmare. This was partly due to the conditions and partly due to the fact that Wasps' jumpers seemed to have carte blanche to climb all over the Exe jumpers; at one point TJ was taken out in the air in a manner that was clearly dangerous but which evoked ne'er a twitch from ref Dave Pearson and his officials. Similarly Marco Wentzel had at least two charges through the lineout that most refs would have given us penalties for but which Mr Pearson ruled legitimate.

Despite starting out being fairly on top in the scrums by mid way through the second half we had done something to attract Mr P's ire and 8 successive scrums ended in penalties to Wasps. The most unfortunate of these was when the ref ended up underneath a ruck, 30 metres out and bang in front of the posts. Wasps were getting penalties from all the scrums and, of course, the game has to restart with a scrum to the side in possession when the ref makes contact with the ball, so it was very convenient that a Wasps player happened to get himself tackled in contact with Mr P just there....
The inevitable happened and Wasps were suddenly one score off a draw.

If refs are going to hand out penalties like confetti at scrums then the tactic of ref contact is going to become commonplace as sides look for penalty advantages, particularly at a time when tries seem hard to come by. Surely a free kick to the side in possession would be a fairer way of restarting the game in these circumstances.

Dai Young is reported as feeling aggrieved about the two penalty advantages that weren't brought back. Certainly one of them was followed by about 12 phases of Wasps' play which got them nowhere; that has to be enough advantage. The option lies with the team that has the penalty to "spike" the ball and get the penalty or to play on in the hope of something better. Clearly a snap drop goal attempt that misses or a grubber kick through that goes dead is not making full use of the penalty advantage but if you can't make anything of 12 phases of play then you've only yourselves to blame in my book.
Both sides were guilty of kicking away far too much possession. On a day like yesterday every high ball was a lottery and it was much more of a day to "stick it up your jumper" and play the sort of rugby which may be old fashioned but which values possession above profligacy.

So we come to the final act and the binding/not binding issue that gave us the penalty. Personally I was unsighted but the ref must have asked the TJ to watch for that specific eventuality. In truth the scrums had been a mess and the decisions at them a mystery for most of the afternoon. Wasps seemed to me to have done better than they should have out of a number of scrums and on balance they didn't deserve to win the game. A draw might have been a fair result as they were on top for the first ten and the last thirty minutes and we were on top for the 40 minutes in between.

Will Wasps go down? Probably because although they have a lot of very talented players right across the park they didn't play like a team. For whatever reason Dai Young is not getting anything like what they are capable of out of them. Simpson was very like the Homer variety (D'oh) and Robinson was totally out of sorts and without a 9/10 axis it is very difficult to get anything to function. Vunipola may be a crowd favourite but he looks like a prop playing at 8, Poff was a shadow of the player who gave us trouble at SP and their "dangerous" back three looked anything but.

Will we finish in the top 4? Not on yesterday's showing. We badly missed Sturgess and I'm sorry but Andress is not up to standard; the lineout needs James Hanks and Luke Arscott would have been safer than Dolly and taken some of the pressure in defence off Ignacio. The midfield had little go forwards without Sireli and Gonzo is making too many handling errors when there is no pressure on him. We not only need all of those injured players back but we also need acceptable level substitutes for them. However much we the supporters may want HC rugby next season I, more than anything else, want to be in the Prem the season after next. At present, and with our injury record, a committed Heineken campaign next year would jeapardise our Premiership survival with no chance of getting out of the group stages in the HC. Seventh may be a very good place to finish this season. We have come so far that we should not risk running before we can safely walk.
However I don't want to finish on a negative note. Last season we would have lost both yesterday and the previous weeks' games. This season we are beginning to see the "Iron in the Soul" that turns an average team into a successful one. Both Wasps and Tigers, at opposite ends of the table, were desperate to win their respective games against us. Both failed despite the fact that we were 4 or 5 first choice players short and, frankly, had less incentive to win either game. 'Winning, like losing, becomes a habit' is one of the oldest sporting cliches but that doesn't stop it being true. With the exception of the LV cup game against Bath (which really was the Academy side versus Bath 2nd XV) we have now won 6 out of 6. Bath next week will be very tough but we have a point to prove having not yet beaten them in the Prem and this is as good a time to play them as any. Bring it on (but please no more 6pm kick offs Mr Rowe).
More Exeter Chiefs headlines
Exeter Chiefs Poll