Thank you for the past eight years and to the years to come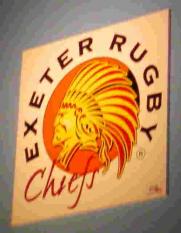 Chiefs
By Tommy Hawkeye
April 17 2012
Tommy Hawkeye shares some thoughts about Exeter Chiefs
Thank you for the past eight years and to the years to come
Well here we are; qualified for the HC and dreaming of snatching a place in the playoffs and who's to say we can't, in fact who's to say we can't get through and win the Championship itself. However they are just dreams at this moment in time but dreams have surpassed the possibilities we dreamt of at the start of the season.

Anyway that's not why I have decided on this post because all of that will take care of itself one way another over the coming days and weeks. No what I want to say is how much genuine pleasure and excitement I've had following Chiefs over the past eight seasons since I moved to Devon permanently from Cheshire.

I have been involved in rugby for over 50 years played a little bit of representative rugby at school, started my senior career at top class level but wasn't quite good enough so then moved on to play and coach at a junior level, though quite decent junior level. I coached at a decent level up to national leagues and along the way won a few cups and sevens. I also watched Sale play in the Premiership, Amlin and HC.

I've had a lot of fun along the way and some great excitement but what has happened at Exeter has been something quite special and with the management in place, on and off the field, it could get better and better still in the future.
I first visited the County Ground twenty odd years ago when I brought a Colts side down as part of the Easter tour so imagine my surprise eight years ago when I turned up and saw not a thing had changed in all those years. Not deterred I opted for season tickets and some reasonable if not great rugby but what really counted was the friendliness and the welcome into the club for a northern oink.

It had a great atmosphere even then and despite being semi pro, still a genuine rugby club and a rugby club with ambition. Though having said that, I know many rugby clubs with ambition but who have no idea how they might convert that ambition into reality. Exeter proved to be something different and the move to Sandy Park was a massive step. I remember on the first open day at Sandy Park the fear expressed by some that such a move would bankrupt the club and that if it was to succeed it would simply become a business and lose its soul.

Well it is has become a success story and it hasn't lost its soul. The board continue to improve the infrastructure on a sound financial basis which has become the envy of many of the more established teams in the league. I didn't believe Rob Baxter was the right man for the job and yet now although nobody is indispensable, you have to wonder what we would do without him.

Rob has created a squad of players without so called stars but he has instilled in them a team ethos but further than that he has also instilled in them a club ethos with a tremendous sense of belonging and that is almost, if not, unique in this league. Support has grown and somehow every new supporter feels part of it and no less important to players and the club than the original supporter who once stood alone with his dog.

The feel within the club is a mixture of euphoria and realism and come 4pm on Sunday whether we have won or lost you can be sure that Sandy Park will be a great place to be and when Baxter and his boys enter the clubhouse, because that what it is, there will be much cheer and backslapping by all concerned.

In the eight years at Chiefs I have made some great new friends and been made unbelievably welcome. The experience has changed many of my views of rugby so much so that I even refer to the team as Chiefs rather than Exeter and yet I wouldn't think of calling Sale, Sharks.

This Sunday whatever the result I will probably have one drink more than I need as I did last Saturday when I returned from Worcester on the "Fun Bus" (another new experience and not for the feint hearted)and was deposited at Sandy Park awaiting my lift home. During the wait the team of professional rugby players returned and I, as a young at heart supporter, welcomed them back. I'm not sure what they thought of that but whatever it was they just shook hands like fellow club members and that's why this club will continue to move onwards and upwards.

So I just hope you enjoy the experience as much as I do and if you might read this but have no connection to the club come along next season and enjoy it along with everybody else.
View a Printer Friendly version of this Story.
Thank you for the past eight years and to the years to come
thechiefstribe.com (IP Logged)
17/04/2012 22:20
What do you think? You can have your say by posting below.
If you do not already have an account
Click here to Register
.
Re: Thank you for the past eight years and to the years to come
17/04/2012 22:24
I've now posted and announced this via Twitter as it deserves a wider audience.
Brilliant piece TH
Little did I know when I started going to the County Ground about 10 years ago that half of what has been achieved was possible. I keep pinching myself and the grin goes on and on
Sorry, only registered users may post in this forum.
More Exeter Chiefs headlines
Exeter Chiefs Poll