Chiefs v Warriors let battle commence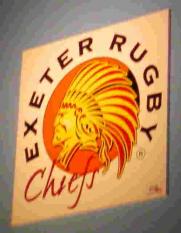 Chiefs
By Moorsman
October 31 2012
Worcester head to Sandy Park for round 7 of this season's Aviva Premiership
Exeter Chiefs
v
Worcester Warriors
Match Preview
So once again we cross swords etc. with our old adversary from the days of ND1. There's plenty of history but not too much in the Prem as Warriors had gone walkabout for our 1st season. Last season saw the Chiefs come out on top in both fixtures but only by small margins. The game at Sandy Park was a very nervy affair with both sides showing stubborn defence in mid-field (one for the purists maybe). However things were much more open at Sixways pareticularly in the last few minutes where Exeter pulled off a result that will live long in my memory.
What of this season? Well, so far there's little to separate the sides in terms of points for and against. Both are playing a more open, attacking style of Rugby that should bode well for Saturday. That's torn it - It'll probably descend into a kicking battle in pooring rain and a howling wind!! But I certainly hope not and honestly don't think so. No doubt the Chiefs can still play the 'stick it up your jumper' game but are far more ambitious these days. Rob Baxter keeps talking about the side as still learning and developing , which they are. The players understand the need to attack every game with as much intensity as possible and enjoying every moment. The Tribe will also be in full voice to roar them on and see them take the game to the next level.
It should be a great afternoon and I'm predicting a Chiefs win (no surprise there) but Warriors are going to have to repeat their performance at Franklin's Gardens to go away with a bonus point.
Come On You Chiefs !!!
More Exeter Chiefs headlines
Exeter Chiefs Poll