Spotlight on Sioux Chief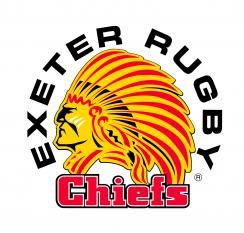 Chiefs
By Moorsman
June 3 2014
The Spotlight on The Tribe feature makes a return with Sioux Chief starting us off....
Spotlight on Sioux Chief
Tribe Name: Sioux Chief

Age: 53

Why do you support rugby? I support Rugby because of the Respect shown by all involved.


When did you start watching (or playing) rugby and why? I played(apparently)at schoolboy level but was better at football! I've always watched the game with one eye but as I got older have taken more of an interest.

Which players did you/do you admire? I admire them all! They put their bodies through tremendous pressure. I couldn't say that I have a hero as such.

What's your best memory as a spectator? Has to be seeing Dean Mumm lift the L=V Cup!

Why do you support Exeter Chiefs and how long have you been following them? I support The Chiefs because of my son Billy. It was him who asked if we could go watch them. We've been going for 6 years now.

What has pleased you most about the way the club's developed over the last few years? The way the club continues to grow on and off the field and consolidating in the Premiership after many had the Chiefs as certs for relegation. Recognition from the wider Rugby Family that SP is a great place to visit and International call ups for our talented youngsters and of course Rob!

How many live games do you see a season? As I'm a Steward I see every home match(baring sickness or other commitment)

Do you go to any away games? Yes Billy and I do go to away games, not as many as we would like but it's not cheap! We've met some great people and had some good days out, we've been made very welcome by our fellow travellers and really feel like part of the Chiefs Family.

What's your particular matchday routine? Well as a Steward I need to be at the ground 3 hours before kick off.

How do you think the coverage of the Chiefs and rugby union compare with other sports in the region? Not too bad but The Chiefs do seem to play second fiddle to the Football Teams. I'd like to see a bit more coverage in general.

Do you watch any other sports? I like to watch Motorsport and sometimes Football.

Do you watch rugby on TV. If so is it club games, internationals or both? I watch all the Rugby when I can(the Wife's good like that)!

Do you watch on terrestrial, satellite or cable and how does the coverage compare? I have BT Vision so the coverage is good. I'm hoping that when Infinity arrives out here I can add Sky Sports too!

How long do you think it will take the Chiefs to make an AV play-off place? That's a tough one really. I'd like to say a couple of years but as I'm a realist I think maybe 5. But it wouldn't surprise me if it was sooner.

Any general comments about the club or the game? A lot of people moan (and I admit I have) about certain things at SP but generally it's not a bad place is it. I understand the redevelopment has upset people by having to move etc and the vision of a completed SP is fantastic. I just hope the Club are sensible and don't alienate too many fans. We need corporate facility's and all that comes with it but god forbid thing go wrong on the field because we all know those that will still go.......and those that fly the coop! Rugby is a great game and following the Chiefs is a great feeling.
View a Printer Friendly version of this Story.
Spotlight on Sioux Chief
thechiefstribe.com (IP Logged)
03/06/2014 20:51
What do you think? You can have your say by posting below.
If you do not already have an account
Click here to Register
.
Re: Spotlight on Sioux Chief
03/06/2014 22:00
Oh and I forgot to mention that I moved to Devon from London 8 years ago and albeit it took me some 9 months to settle into the way of life I wouldn't go back
Time for a pipe of Old Toby!
Sorry, only registered users may post in this forum.
More Exeter Chiefs headlines
Exeter Chiefs Poll