Spotlight on ExpatChief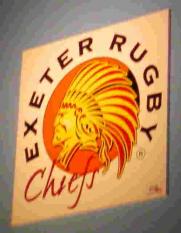 Chiefs in the spotlight
By Moorsman
June 17 2014
ExPatChief takes the spotlight this week
Tribe Name: ExpatChief

Age: 40

Why do you support rugby? Used to play always followed international rugby but the HK7s and a club that I have a tenuous link to (went to uni in Exeter) beating the odd and doing well got me into the Chiefs. Also font like the violence that goes with football support.

When did you start watching (or playing) rugby and why? Played at school from and early age but stopped when everybody else got big and I got squashed all the time

Which players did you/do you admire? Rich Baxter real club man who managed to keep upping his game as the club rose through the ranks


What's your best memory as a spectator? First season in the prem proving all the pundits wrong

Why do you support Exeter Chiefs and how long have you been following them? Because of a tenuos link but it's a crazy club with all the tribe dressed up but holds to the old values. Since promotion.

What has pleased you most about the way the club's developed over the last few years? Seeing the home grown youngsters coming through and the big plan with the stadium and winning things in x years

How many live games do you see a season? 0 well some on TV

Do you go to any away games? No I live on the other side of the world

What's your particular matchday routine? N/A

How do you think the coverage of the Chiefs and rugby union compare with other sports in the region? N/A

Do you watch any other sports? Cycling

Do you watch rugby on TV. If so is it club games, internationals or both? Club and international

Do you watch on terrestrial, satellite or cable and how does the coverage compare? Well the feeds we get out here are basic so the commentators will chat about replays we can't see...

How long do you think it will take the Chiefs to make an AV play-off place? 3 years

Any general comments about the club or the game? Think the club is great and in good hands. Think TR takes unwarranted stick sometimes.
Would like the club to try something radical to fill the new stadium. Such as hiring some PE teachers and partnering with schools to provide a rugby themed program and offer the kids at these schools free season tickets with an adult one purchased. Make going to the rugby what all kids do with their mum/dad in Exeter and hopefully they do it all their life.
View a Printer Friendly version of this Story.
Spotlight on ExpatChief
thechiefstribe.com (IP Logged)
17/06/2014 22:48
What do you think? You can have your say by posting below.
If you do not already have an account
Click here to Register
.
Sorry, only registered users may post in this forum.
More Exeter Chiefs headlines
Exeter Chiefs Poll