Spotlight on Pinhoe Chief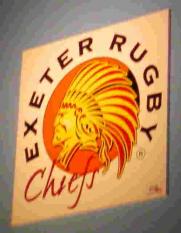 spot;ight
By Moorsman
June 28 2014
This week the spotlight falls on Pinhoe Chief
Tribe Name: Pinhoe_Chief

Age: 51

Why do you support rugby? Love the game but can longer play.

When did you start watching (or playing) rugby and why? Played at school and college then had a break before starting again and playing for Exeter Saracens.


Which players did you/do you admire? Was a fan of Jerry Guscott back in the day ghosting through back lines for fun. Chiefs players - Shoey, Dolly and Fets.


What's your best memory as a spectator? Watching on TV the second leg of the championship play off against Bristol.

Why do you support Exeter Chiefs and how long have you been following them? Local team even though I'm not Devon born and bred. Only been watching since the move to Sandy Park.

What has pleased you most about the way the club's developed over the last few years?

How many live games do you see a season? All home games (season ticket)and the odd (local) away game.

Do you go to any away games? Been to Gloucester and Bath a few times so far.

What's your particular matchday routine? Unfortunately drive to the match, parking at Digby, so no beer for me. Occasionally get a pass from the long haired colonel and then can indulge.

How do you think the coverage of the Chiefs and rugby union compare with other sports in the region? Pretty poor, Fussball at even the lowest level gets more coverage before they mention the rugby. And then Chiefs being the only premeirship side in Devon come second fiddle to Pirates and Plymouth.

Do you watch any other sports? A bit if it's on terrestrial TV.

Do you watch rugby on TV. If so is it club games, internationals or both? Anything.

Do you watch on terrestrial, satellite or cable and how does the coverage compare? Terrestrial at home so limited to ITV4 premiership show, otherwise into The Hole in The Wall in town.

How long do you think it will take the Chiefs to make an AV play-off place? With luck on our side(IE the big teams missing players at six nations time) maybe in a couple of years otherwise on true merit 4 - 5 years.

Any general comments about the club or the game? Like the plan to improve the stadium, moving along nicely, but small things that niggle do seem to be ignored such as a workable PA system that you can actually hear in the smaller stands (NWT) , who is the main sponsor!
View a Printer Friendly version of this Story.
Spotlight on Pinhoe Chief
thechiefstribe.com (IP Logged)
28/06/2014 21:02
What do you think? You can have your say by posting below.
If you do not already have an account
Click here to Register
.
Sorry, only registered users may post in this forum.
More Exeter Chiefs headlines
Exeter Chiefs Poll