Spotlight on Clalan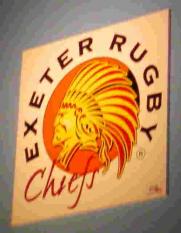 Spotlight
By Moorsman
July 7 2014
Clalan's under the spotlight now.
Tribe name: clalan

Age:47

Why do you support rugby? Great team sport, ideal for my build

When did you start watching ( or playing ) rugby and why? Used to sneak into county ground as a child, then came back to rugby in my
twenties. Had to stop playing at school age.

Which players did you/do you admire? Admired most players in the amateur era for pure determination. I have a lot of pride in the chiefs players past and present, they have got us here and will keep us in the premiership. Chris Budgen is a favourite with the family.

What's your best memory as a spectator? As a Chief, getting wet in Bristol. Then the LV cup final. The 2nd half against Saints in our 2011 home game was special as we were still the new team. HC games.

Why do you support the Chiefs and how long have you been following them? I am a ST.Thomas boy, and the County ground was there and it's my local team. I was seduced by friends and Exeter city Fc in the eighties, but saw the light and returned to regular support of Exeter Rfc in the nineties.

What has pleased you most about the way the clubs developed over the last few year? My friends will tell you that I wasn't to happy about the move out of the city at the time, but I knew it had to be done, I missed the local pubs etc. But the clubs has done brilliantly in bringing the stadium closer by getting the transport links sorted, catching a bus to the gates is great. Also they have kept the club feel and building in small stages will keep this.

How many live games do you see a season? All home games

Do you go to any away games? Yes as many as family and finance permit, usually do a warm up trip as well, then selective for others.

What's your particular match day routine? Match day, usually meet up with friends in the city then catch the bus to the ground, leave the ground on the last bus usually.

How do you think the coverage of the Chiefs and rugby union compare to other sports in the region? The local papers have given great coverage, on TV we will always be second fiddle to the round ball game, but coverage of Chiefs is good, more importantly other local rugby teams are now reported on.

Do you watch any other sport? Not really now, TV for cricket, cycling and football.

Do you watch rugby on TV. If so is it club games, internationals or both? Both

Do you watch on terrestrial, satellite or cable and how does the coverage compare? Cable, BT have done a good job with commentators, sky a bit stale.

How long do you think it will take the chiefs to make AV play-off place? Within 6 years, unlike some other teams finances will be an issue, we are relying on
Our very promising youth.

Any general comments about the club or game? As the club keeps growing it must ensure it doesn't leave supporters behind, they've done well till now. We have a great Chiefs family let's help it flourish
View a Printer Friendly version of this Story.
Spotlight on Clalan
thechiefstribe.com (IP Logged)
07/07/2014 19:03
What do you think? You can have your say by posting below.
If you do not already have an account
Click here to Register
.
Sorry, only registered users may post in this forum.
More Exeter Chiefs headlines
Exeter Chiefs Poll