Spotlight on ChiefChopper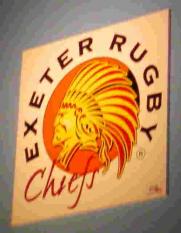 Chiefs
By Moorsman
July 16 2014
This week the spotlight falls on ChiefChopper
Tribe Name: ChiefChopper

Age: 34

Why do you support rugby? Being a Cornishman and from the proud Rugby town of Redruth there was never really any choice!!

When did you start watching (or playing) rugby and why? Ever since I was kid, growing up I would go and with my Dad and brothers to watch the games at Redruth and the Cornwall games. Regarding playing, whilst when I was younger I was a tenacious so and so, unfortunately as I got older other players started getting bigger and bigger and I was left behind!!!


Which players did you/do you admire? From the wider world of Rugby, it has to be Jonny Wilkinson. Same age as myself, the dedication that he has shown to the sport has been truly remarkable. Coming back from all the injuries that he suffered and still being a great player is one of the great sporting stories. From a Chiefs perspective, Dean Mumm has been a great addition to the Chiefs family. A proven international that has come to Exeter and has helped move the team onto new heights.


What's your best memory as a spectator? As a Rugby supporter, it's back to when I was 11 and followed my County, Cornwall to Twickenham with a travelling support of 40,000 for the County Championship final. An experience that I still remember to this day!! As an Exeter Chiefs fan, there are a few!!

When we got promotion, whilst I wasn't at the game in Bristol, I was in Spain at the time and asked the bar that we were at to the show the game. Watching the team that day, sat outside in sunny Spain was pretty good!! The LV Cup final was pretty amazing, winning a major trophy is a huge deal and something that the club should be truly proud of.

Why do you support Exeter Chiefs and how long have you been following them? My first Exeter game that I remember seeing was back at the County ground, my Dad took me and my brothers to see Exeter play (I believe, but can't quite remember for sure) Harlequins in the Cup back in the mid 90s. On a side note, I do wish we had a proper national cup competition again. The benefit that this would give to the wider Rugby community would be immense and I'm sure would have the potential of triggering for "smaller" clubs around the country the idea that they to can compete at the highest level.

As a regular Exeter Chiefs supporter, I'm a season ticket holder and have been following them since the move to Sandy Park. At the start I was more of a casual supporter, sometimes thinking I was cheating on my home town team of Redruth. But over the years I've realized you can have more than one sporting love in you life, and the way that Exeter has played and presented themselves have made me very proud to call myself an Exeter Chiefs supporter.

What has pleased you most about the way the club's developed over the last few years? We've kept our identity. Whilst there are great ambitions with the club, in particular the great work with the stadium. After a game, you go into the bar and you've got that old school rugby feel. The club has also done a great deal of work in terms of developing the youth, we've got players coming through now that are Exeter through and through and that can only be a great thing!!

How many live games do you see a season? I'm a season ticket holder, so I'll go to all of the home first team games during the season.

Do you go to any away games? I'm not a great away game traveller, occasionally I'll make the jaunt upto Bath.

What's your particular matchday routine? Train to get there, pint beforehand, standing in the North-West corner and then occasionally a couple of pints in the bar afterwards!!

How do you think the coverage of the Chiefs and rugby union compare with other sports in the region? I think it's difficult. If you want to use an America term, Exeter Chiefs are the number 1 franchise in Devon and quite possibly the South-West. However I think there are more things that can be done. The club has got a good social media outlook, but that will only attract people who are already aware of Exeter Chiefs. We've yet to reach that breakthrough point in terms of Rugby coverage nationally where we considered on a par with the likes of Harlequins, Leicester, Saracens, Bath etc. But this can only be achieved by the performances on the pitch. In terms of local coverage, I think we need to be more in your face. I have mentioned before on the forums the need for a City Centre presence, we need to be catching the casual fans and hooking them!!

Do you watch any other sports? Yes, pretty much every sport!!

Do you watch rugby on TV. If so is it club games, internationals or both? Yes, I watch anything from the Championship shown on Sky, the Premiership on BT, the European Rugby and the Internationals shown wherever!! I've even been known to find the odd stream on the Internet for 2nd/3rd/4th tier international rugby!!

Do you watch on terrestrial, satellite or cable and how does the coverage compare? I think the coverage of the Premiership this year by BT has been excellent. I would though wish that there would be better coverage for club rugby on ITV/BBC. There is the ITV4 and very late night ITV1 highlights, but I think it would be good to get back to a Rugby Special program.

How long do you think it will take the Chiefs to make an AV play-off place? I think we're close. The management team obviously thinks very highly of the young players that we have coming through the ranks. We've already seen some of them coming through into the first team this year and if they are as good as the management believe they are then I think within 2 to 3 years. I wasn't disappointed with the team's performance this year as I viewed it as a transitional year, which hopefully will lead to many more years of success!!

Any general comments about the club or the game? I think the club is making great progress., both on and off the pitch. We're very lucky to be Exeter Chiefs supporters at this time, we are at the start of something that could be very special. I'm looking forward to in a few years time watching some European Cup Semi finals at the 20,000+ Sandy Park!!!
View a Printer Friendly version of this Story.
Spotlight on ChiefChopper
thechiefstribe.com (IP Logged)
16/07/2014 11:22
What do you think? You can have your say by posting below.
If you do not already have an account
Click here to Register
.
Sorry, only registered users may post in this forum.
More Exeter Chiefs headlines
Exeter Chiefs Poll