Spotlight on BarumBrave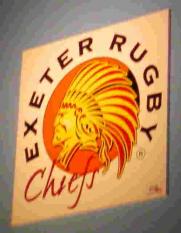 Chiefs
By Moorsman
August 4 2014
Barum Brave is next up in the spotlight
Tribe Name: Barumbrave

Age: 59

Why do you support rugby? Community feeling, great atmosphere, and far too old to play anymore.

When did you start watching (or playing) rugby and why? Played at school, managed to play for South Yorks Under 19's, and during RAF at station level. Always watched, any team juniors to international.


Which players did you/do you admire? Enjoyed Neil Back's tenacity and guile, and equally admired Martin Johnson for skill and leadership. Within Chiefs have enjoyed Shoey, and he will be missed next season and all the guys who have had to retire early in the cause of giving us all so much enjoyment, thanks.


What's your best memory as a spectator? Being given a pass on my lady's birthday to go to the Mem with the son in law to watch the second leg of the championship play off against Bristol. An amazing night.

Why do you support Exeter Chiefs and how long have you been following them? I needed a better rugby fix, though Barnstaple RFC always have much to offer, and Exeter fitted the bill. Been going since the move to Sandy Park.

What has pleased you most about the way the club's developed over the last few years? The ability to build both the team and the ground but remain rooted with the community and the fan base.

How many live games do you see a season? I try to attend all home games and the rare away game.

Do you go to any away games?

What's your particular matchday routine? Travelling from North Devon with the son in law and we normally drive, beers on alternate games. Go early, eat at ground, wander around see some faces and really enjoy opportunity to start banter with opposition fans. Then to NT Section C and have more banter with "Q" our top steward.

How do you think the coverage of the Chiefs and rugby union compare with other sports in the region? Simply appalling, not sure they know who the Chiefs are...don't get me started on this....

Do you watch any other sports? Not really, maybe athletics.

Do you watch rugby on TV. Yes, whatever it is, even S4C and BBC Alba, should learn more languages.

Do you watch on terrestrial, satellite or cable and how does the coverage compare? Using mainly BT sport at the moment and enjoying the Premiership games.

How long do you think it will take the Chiefs to make an AV play-off place? Not sure, I suppose the answer is when we are ready and I am sure the journey will be interesting.

Any general comments about the club or the game? Nothing too much, though I think that the club should get Big Chief to watch with fans, maybe starting in the East Terrace.
View a Printer Friendly version of this Story.
Spotlight on BarumBrave
thechiefstribe.com (IP Logged)
04/08/2014 18:52
What do you think? You can have your say by posting below.
If you do not already have an account
Click here to Register
.
Re: Spotlight on BarumBrave
05/08/2014 23:41
"Nothing too much, though I think that the club should get Big Chief to watch with fans, maybe starting in the East Terrace."

The man doesn't like company and the dog tried chewing my tomahawk.....so that won't happen again!
Sorry, only registered users may post in this forum.
More Exeter Chiefs headlines
Exeter Chiefs Poll