Spotlight on Toomanychiefs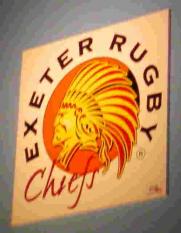 spotlight
By Moorsman
August 19 2014
today Toomanychiefs is under the spotlight
Tribe Name: Toomanychiefs

Age:56 (mental age 14)

Why do you support rugby? I just love the atmosphere at games,the banter with very little if no animosity.The honesty of the players on the pitch (if they are down you can bet your life they are hurt).

When did you start watching (or playing) rugby and why? I played abit at school.,but sort of lost touch with the game.Used to go to the County Ground sometimes but started going regularly when SP opened.


Which players did you/do you admire? All of em,its brutal out there.


What's your best memory as a spectator? Wasnt able to make the famous night.So its gotta be our first day win against Gloucester with the realization that we can do this! Also LV cup final.Also Seeing BOD and Jonny play competitive games at SP (look how far we have come)

Why do you support Exeter Chiefs and how long have you been following them? Its my home team.On and off for many years.Regularly since SP opened.I just love it there!

What has pleased you most about the way the club's developed over the last few years? The utter professionalism of all concerned at SP.In a few short years we not only become a proper premiership set up and the business side of things have developed at pace to enable this to happen

How many live games do you see a season? All home games and as many awaydays as i can manage which was seven last year.

Do you go to any away games? As many as i can.

What's your particular matchday routine? My nephew calls for me at 12;30 and we catch the 77 bus. Curry and pint in wigwam then start to wander around the ground having a natter to people.End up in undercroft(another pint).Then at 2pm we make our way to the libary.After game my nephew likes to watch the players warm down and go autograph hunting so i have a couple more in the wigwam.Leave about half six.

How do you think the coverage of the Chiefs and rugby union compare with other sports in the region? Its rubbish,end of.

Do you watch any other sports? Yes,will watch anything really.

Do you watch rugby on TV. If so is it club games, internationals or both? Both

Do you watch on terrestrial, satellite or cable and how does the coverage compare? i dont have pay tv so tend to go to pubs to watch

How long do you think it will take the Chiefs to make an AV play-off place? Not going to put a time on it.Its a very competitive league and just staying up is a challenge! It will happen though.

Any general comments about the club or the game? The improvements at SP have been stunning and rapid.I think a time of consolidation is whats needed now. As for the game ,the use of TMO`s is in general a good thing,but some refs need to grow some and not go upstairs for every little thing.
I think the idea of teams having `challenges` is worth looking at.
More Exeter Chiefs headlines
Exeter Chiefs Poll