I'm with Jack - Let's Win It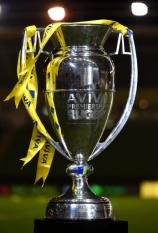 Trophy
By Tommy HawkEye
May 23 2016
Tommy Hawkeye looks forward to Twickers
I'm with Jack - Let's Win It
Fifty years ago last Easter I first came to Exeter as an eighteen year old on tour. About thirty two years ago I came once again on an Easter tour to the old County Ground when I brought a Colts side I coached. Twelve years ago I moved to Devon and took out two season tickets in the stylish stand at the County Ground and watched some fairly average rugby. Now I sit on the halfway line at Sandy Park and watch some pretty good rugby.

Before moving south I was DOR at Macclesfield, then in National League 2 so the rugby at Chiefs whilst better was not that much better. However, I frequently watched Sale on a Friday night and the rugby there was far superior and I missed that.

Tony Rowe then decided we'd up sticks and move to Sandy Park and I remember going to the open day in the summer before Sandy Park opened and listened to many voices declaring the end was nigh and the club would go bust.

We didn't go bust off the field and we marginally improved on the field. Part of the problem was that although the players were being paid to play they were mostly still playing for fun. Rob was captain and insisted on continually kicking for the corner rather than for goal. I had words with his dad, John, and his view was you couldn't take away the ambition of the side.

We then got promoted but not before many of us thought a three point lead would not be enough playing away to Bristol. Baxter, the buffoon, retained all his squad and brought in a couple or three seasoned professionals to supplement them which resulted in every pundit predicting our swift return to the Championship. A certain A Healey was particularly certain that Chiefs had no chance but at least he and I have one thing in common; neither of us has won a world cup.

So up we go and we don't do too badly but of course when we win it's because the other side played poorly that day. Fortunately we managed to find quite a number of sides having an off day until the penny began to drop that Chiefs might hang around for a year or two.

Of course we had our bogey side, Bath, and it took us a long time to win that one. However, we should have won the game three years ago at the Rec but kept going for the corner rather than for goal. Whilst leaving the ground I once again asked John Baxter if we should not be taking three points when on offer. I can't repeat his answer verbatim but I had the distinct impression he would have preferred the points to be taken when on offer.

And haven't we had some fun since we arrived in the Premiership and especially our trips into Europe. The cultural delights of Guinness in Dublin, the freezing cold of Montpellier and the sun drenched break in Toulon to name but a few. The great thing is we lost all three mentioned but it was fun. Now we prepare for the relatively short trip to Londenium to meet possibly the best side in Europe.

We have absolutely no chance against the European Champions. I mean look at their team with the likes of Goode, Ashton, Barritt, Farrell, Wigglesworth, the two V brothers and KruItogi duo. Nope we should save our money and watch it on the telly. Why go all that way to watch the Wolfpack tear us apart.

Well that's certainly one way of looking at it. I have another way.

RB looks for a little improvement each year. Last year we finished fifth, all be it by the tightest of margins. So this season our objective was fourth in order to be amongst the big boys but we got that wrong. We only go and get a home semi-final, win it and now have a place in the final where of course we have no chance.

Now my view is that having made the ambitious mistake of getting through to the final we may as well go and win it just to make the journey worthwhile. How will we do that? By sheer effort and determination accompanied by no little skill and pace; all driven on by ten to twenty thousand screaming Devonians donning peculiar headway who in turn will be backed up by a further forty thousand so called neutrals.

Sarries may have the illustrious names I have mentioned above but consider a back three of Dollman, Nowell and either Woodburn or Short; that's not too shabby. Steenson, Whitton or Hill and Slade in the midfield all fed hopefully by Chudders. Now that lot can compete with anybody on their day.

It's going to be a hard day at the office up front but the six front row members from last week can do a job up front and for me Hepburn and Williams are the star discoveries of the season. Parling will get his chance to prove just how good he is against the best second row partnership in, possibly, the world and Mitch will mix it in and around the park.
When it comes to back rows then the Chiefs are well blessed. One of the fab four will miss out on starting this weekend but they all support each other fully and they have all had their turn starting on the bench.

As a fifteen they work their nuts off for each other and I think the Beach Boys from Devon can and will overturn the Wolfpack. We can defend as well as they can. We are a fit if not fitter than they are. We can attack as well as they can and importantly from anywhere on the park.

To the players. If you can't breathe after eighty minutes then we can't ask for more. Win or lose we are going to enjoy every minute of the game and the day But I'm with Jack Nowell when he says there is not a lot of point in settling for getting to the final. Let's go win it.
More Exeter Chiefs headlines
Exeter Chiefs Poll