W(h)ither the Anglo-Welsh Cup?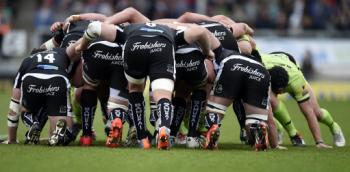 Together
By Exeforever
March 20 2017
After yesterday's game I find myself wondering about both the what and the why of this competition.
W(h)ither the Anglo-Welsh Cup?
After yesterday's game I find myself wondering about both the what and the why of this competition.
Firstly Why Anglo-Welsh?
There hasn't been a Welsh side in the knockout stage for a couple of iterations now (just as there isn't in the European Champs Cup) and the days when the cross border battles between Gloucester and Cardiff etc were the highlights of the season are as remote as leather rugby balls and amateurism. So why not ditch the Welsh element and introduce the top 4 sides from the Championship and let them play their first XVs against development squads from the Premiership?
We have seen this season that Bristol have been incapable of putting on a meaningful display in the Prem and equally that London Irish, having kept most of their squad from the Prem, have hammered the Championship in contrast to their performance in last year's Premiership. The gulf between the two leagues is large and, I would suggest, getting larger not smaller. Giving Championship sides a competition in which they can measure their best teams against Prem development Squads could help them to assess where they need to improve.
Secondly what is the nature of this competition and how do you ensure that Clubs respect it?
The purpose of the competition is to provide a cup contest for the A league. Just as the Prem has the relevant European Cup the A League has the AW Cup and in an ideal world these two wouldn't mix their personnel. I would therefore suggest that an eligibility criterion be introduced that says that a Premiership Club may only play two players in their matchday squad who have appeared in any of their last four Premiership or European trophy games. This would stop Clubs stacking their squad with 1st XV players at the knockout stages and ensure that participating players are indeed in a "development situation". This eligibility rule would not stop a Club from playing anyone returning from long term injury as they would have been most unlikely to have played in any of the 4 previous games (as described) and it would allow them to play two first team players to cover non-availability of specialist positions like front row or scrum half. Any team unable to meet these conditions could apply for a medical joker but would have some sort of penalty applied to deter cheating (perhaps have to start 10 points down being deemed as a converted try and a penalty for bonus point purposes). This is similar to losing a man when uncontested scrums happen.
This might also encourage "certain Clubs" to invest better in their second team structures rather than crying off A League games due to inability to raise a team…
Thirdly who plays whom?
One feature of this competition that nobody likes is the lack of control over your own destiny. I don't know which Kafkaesque bureaucrat invented the current pool format but it needs replacing with a straightforward system where you play the other teams in your group and the highest placed winners have the home semi-finals.
Fourthly the final location.
There were under 7000 at The Stoop yesterday. We had 9,500 for the semi despite the brouhaha over ticket prices etc and Tigers travel in far greater numbers than Quins so we would have had close to a full house if the final had been at SP. I appreciate that there are logistics to consider but once you know that you are in a home semi provisional planning can start and a two week window between semi and final should be enough to firm up the arrangements. The Final should therefore be staged at the ground of the team with the best overall record in the competition with bonus points involved even at the knockout stages in order to determine this.
Fifthly the referee.
This is not a development competition for referees, or at least it shouldn't be at the final stage. It cannot be beyond the wit of man/PRL/RFU to put an international ref into a game like this. Whatever one thinks of the significance of the competition in general it is one of only three finals that a Club can reach in the season and deserves to be treated as such. There are probably seven Northern hemisphere international referees of quality at present and there were only three internationals on Saturday…
And finally; Anglo-Welsh Cup??
It's not a cup it's a trophy. It may be pedantic but if you're going to call the thing a Cup then it needs to have handles and look like a Cup not like some vase for putting flowers in.
More Exeter Chiefs headlines
Exeter Chiefs Poll