Chiefs v Bristol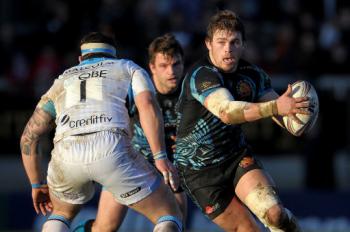 speedy
By Moorsman
April 4 2017
Chiefs will be looking to get back to their barnstorming form against their vistors from up the M5
Chiefs v Bristol
| | | P | W | D | L | F | A | BP | P |
| --- | --- | --- | --- | --- | --- | --- | --- | --- | --- |
| 1 | Wasps | 18 | 14 | 1 | 3 | 577 | 404 | 11 | 69 |
| 2 | Chiefs | 18 | 11 | 3 | 4 | 520 | 360 | 14 | 64 |
| 3 | Sarries | 18 | 13 | 1 | 4 | 470 | 257 | 9 | 63 |
| 4 | Tigers | 18 | 11 | 0 | 7 | 447 | 374 | 7 | 51 |
| 5 | Bath | 18 | 10 | 0 | 8 | 372 | 347 | 8 | 48 |
| 6 | Quins | 18 | 10 | 0 | 8 | 435 | 412 | 7 | 47 |
| 7 | Saints | 18 | 9 | 0 | 9 | 387 | 375 | 9 | 45 |
| 8 | Gaws | 18 | 6 | 2 | 10 | 440 | 413 | 12 | 40 |
| 9 | Falcons | 18 | 7 | 0 | 11 | 356 | 496 | 8 | 36 |
| 10 | Sharks | 18 | 5 | 1 | 12 | 360 | 465 | 8 | 30 |
| 11 | Warriors | 18 | 4 | 2 | 12 | 378 | 563 | 6 | 26 |
| 12 | Brizz | 18 | 3 | 0 | 15 | 291 | 567 | 5 | 17 |
Enough said? It would be easy to take that view but there's no way that Rob Baxter will let that thought enter anyone's head at Sandy Park. Particularly given the less than emphatic performance v Sharks. I've no doubt that performance was put to bed very quickly afterwards and the ensuing time has been focussed on getting back to our usual intensity. The Chiefs will be keen to gain a win that cements second place in the AP as a home semi would be the reward. However Bristol who look all but mathematically relegated will come with nothing to lose and thus present something of a banana skin should Chiefs not be at the top of their game. Having said this the gulf between the two sides should be suffuicient for Chiefs to plunder another TBP.


It will be interesting to see the side Rob selects as he should have most of the squad available for action. I wouldn't be surprised to see Sladey start at ten with Steeno on the bench. Likewise I can see Jack Nowell starting at 14 with Shorty on the bench. Dolly will almost certainly start at 15 and I'd like to see Olly Woodburn on the other wing with Whits at 12 (Sam Hill as bench cover). The two youngsters to play Nine with Stu Townsend starting and Jack Maunder joining the fray late on.
With regards the forwards Ben Moon, LCD and Harry Williams to start with Sean Malton, Carl Rimmer and Tom Francis as cover. I can't see Mitch Lees not starting in the second row with either Johnny Hill or Geoff Parling. It's the back row where things get really interesting as Dave Ewers and Julian Salvi are available. I think Don Armond will captain the side from 7 with Tom Waldrom at 8 and Dave Ewers to start. Whatever the side selected they'll be charged up and ready to be rored on by The Tribe.