Gloucester fans say Tigers are the team to beat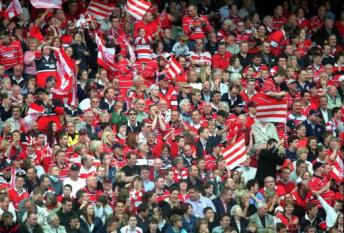 By Cherry Blossom
May 23 2007
A special poll conducted by Shedloads has shown that Gloucester fans believe that Leicester Tigers will again be the main rivals in the battle for next season's Guinness Premiership title. Almost half the Glaws fans who took part in the online poll voted that the Tigers will be the side to beat if Gloucester are to finish top of the table again in 2007-08.
Clubs like Bristol, Saracens and Wasps, who finished third, fourth and fifth in the Premiership table in the season that's just finished, polled only 27 per cent of the votes between them, with Bristol perhaps surprisingly level-pegging with Wasps, who beat Leicester in the Heineken Cup final at Twickenham.
About a quarter of the votes went to "others", so now we are left wondering which of last season's also-rans the fans believe will pose a major threat in the new campaign.
After all, with Glaws and the Tiggers level on 71 points, Brizzle were seven points behind, Sarries eight behind and Wasps trailed in ten short.
Do fans think London Irish, who were sixth 18 points behind the top two, will be a threat, or will Quins improve on last season's seventh place on 51 points?
Surely nobody at Kingsholm thinks Barff, who were eighth with a puny 45 points, will pose a major problem next season, and the same must apply to the teams who finished below them, Falcons, Sharks and the Wussers.
Leeds Carnegie might have a new name and new academic owners, but surely while that might make them the Premiership's clever dicks, it won't make them championship material will it?
So the only conclusion we can come to is that some naughty supporters of other clubs have been casting votes in our Shedloads poll in order to twist the result. It was exactly because we suspected that some unscrupulous operators might do this that we didn't list every club, but instead offered the "others" option.
Anyway, as Glaws are going to win the title, it was only ever a poll to decide the runners-up.
More Gloucester headlines
Gloucester Poll