Glaws fans say Ashton was right to pick Big Les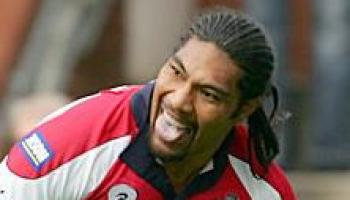 Big Les - England squad
By Cherry Blossom
January 16 2008
Gloucester fans have come down behind England coach Brian Ashton's decision to name Lesley Vainikolo in the England Six Nations squad. In our latest Shedloads pool, fans were asked whether Big Les should be picked for his adopted country, and the majority said yes ... but only just.
The Tongan-born winger, a record breaker in Rugby League with Bradford Bulls, is top try-scorer in English club rugby after last summer's switch from Odsal to Kingsholm, and he qualifies for England on residency rules.
He had previously been capped at Rugby League by New Zealand, where he was brought up and learned his rugby.
But some rugby followers believe that players should only be allowed to play for the country of their birth, while other felt tyhat while Big Les clearly has a lot to offer, he doesn't yet have enough experience to play the game at international level.
In our poll, we asked Shedloads visitors to decide whether Les should be picked for England or whether he had enough experience yet.
Voting has now closed, and the results show that 36.59 per cent of those who voted believe he is good enough to be in the Six Nations squad, 31.71 per cent said no, while another 31.71 per cent felt that he doesn't have the experience yet.
Les has been in New Zealand for the last week after the sudden death of his father, less than a month after the death of one of his brothers. He revealed that it was his father's dream that Lesley should play for England, but the news of his inclusion in the squad came days after his sad death.
The Volcano is due back in England late this week, and the club will decide then whether he is in the right frame of mind to be included in the squad to play Ulster at Kingsholm on Sunday in the last Heineken Cup pool game.

Those of you who are good at sums will have noticed that the three percentage figures above don't add up to 100. They add up to 100.01, but the computer knows best. We think.

More Gloucester headlines
Gloucester Poll