Thank goodness that is over with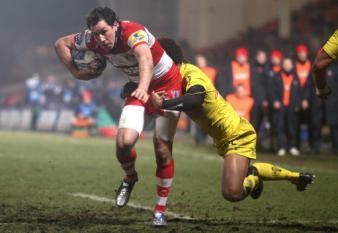 Voyce - 2 tries
By Cherry Picker
May 5 2012
Well, that's got that out of the way ... now we can look forward to a break and hope that everybody comes back refreshed and recharged for next season. One thing is for sure ... there's not a lot in 2011-12 for Gloucester fans or players to look back on with any degreee of satisfaction.
Losing the last game of the season at London Irish doesn't help, losing it 52-18 leaves a bitter taste as Glaws are leap-frogged for seventh place by the home team. In fact Glaws dropped to ninth, and the fact that Bath jumped over them for eighth doesn't help.
Apart from one or two rare highlights, it's all been rather drab and disappointing and we go into the summer looking for a new coach and rebuilding job the old one started but surely nowhere near finished.
Before the Irish game, stand-in coach Carl Hogg claimed that the players had had a good week in training and that the team are hoping to finish on a high note.
Oops.
They finished on a very low one, outplayed, outfought, out-thought and out-moved by an Irish side that scored six tries to the cherry and whites two.
The fact that both Glaws tries were scored by a man who is on the way out, Tom Voyce, hardly gives the fans a lot of hope for next season and there's no doubt at all that Glaws are right now standing at a crossroads.
Rarely has the job of choosing choice of the right man for the job of coach at Kingsholm been so import.
With a few new players already on the way to the club and hopefully more to follow, the new man needs to stop the rot that has seen this season start badly and slowly fall apart.
If the wrong choice is made, there's every danger that the slide could continue.
Glaws have found out this season that they have no divine right to success and while most clubs experience lows as well as highs, those that recover well and recover quickly from the downs are the ones that make a mark in the game.
Anybody know a miracle worker who is free to start work at Kingsholm quick?
View a Printer Friendly version of this Story.
Shedloads (IP Logged)
Unregistered User
Thank goodness that is over with
What do you think? You can have your say by posting below.
If you do not already have an account
Click here to Register
.
Reply•Quote
John O (IP Logged)
Registered User
Date Joined: Apr, 2012
Location:
Posts: 1

Re: Thank goodness that is over with
Move on. Season of 2011 - 2012 was a very mixed season but for me, one to forget.
A few memorable games stand out, such as the Bath game at the rec, both Toulouse home and away and the general run of form for the month or so after Christmas where Gloucester started to play some good open play rugby. But sadly there were far too many low points and each time they seemed to get lower.

Obviously with Brush gone and a few of the big names now on their way, hopefully a new DOR and coaching set-up quickly in place, we can hope for a focused summer training camp to get the team back on the rails.

And to the perennial question of whether to renew my season ticket? - Of course. What else would I do on a Saturday afternoon....
Reply•Quote
Sorry, only registered users may post in this forum.
More Gloucester headlines
Gloucester Poll