Now it's time for the real thing, Glaws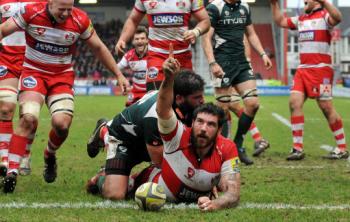 Big Jim - skipper
By Cherry Picker
August 26 2012
Gloucester's pre-season campaign has finished on a high note with a 54-9 Kingsholm hammering of Championship side Doncaster, but coach Nigel Davies and his players are well aware that this wasn't the real thing - that comes next weekend at home to Northampton.
It's a case of so-far-so-good for Glaws after their three warm-up games, but nobody will be in the mood to complain after they scored eight tries on a rain-soaked pitch.
It doesn't really matter who got the scores (Sharples, Morgan, Qera, Robson, Kalamafoni, Taylor, Lewis and Lock, if you must know, Burns converting four and Taylor three), but what is important is that Glaws are looking promising and if Davies realises his ambition to forge a tight-knit family atmosphere in the dressing room, that promise could turn into real potential.
But let's not get too excited.
Glaws appear to have made the right choice in their new coach and in new captain Jim Hamilton, but many more vital choices are to be made over the next nine months.
Davies is satisfied with the progress made so far in pre-season and says that all three friendly games have provided food for thought and things to work on before the real thing starts next weekend.
The bookies appear to think Glaws will be on the fringes of the play-offs, with Leicester once again favourites (yawn). Wouldn't it be great to prove them wrong?
The countdown is gathering pace …bring on the Saints.
More Gloucester headlines
Gloucester Poll