LW give Glaws a timely reminder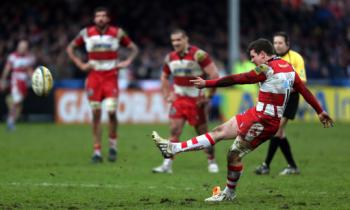 Burns kicks the winner
By Cherry Picker
March 24 2013
Gloucester were given an update on the theory that there's never an easy game in the Premiership as they had to fight back for a single-point win over doomed London Welsh.
Five penalties from Freddie Burns were enough – just – to see Glaws home 15-14 against a side smarting for their points deduction and from Sale's win over Bath the night before.
At this stage of the season the win is all-important, of course, but Glaws certainly can't afford to be satisfied with a result that keeps them just below the top four.
They'll need to do better than that if they want to climb any higher.
Coach Nigel Davies told the BBC: "They were very tough to break down and they put a lot of pressure on us. On our part we didn't really deal with that pressure.
"We didn't take control of the game like we'd planned to. Some of that is down to London Welsh but most of it is down to ourselves.
"However, the team stuck to their guns and in the last 20 minutes we started to see signs of what we were hoping to see. The resilience again shone through and you can't fault that.
"To come away with a win and come back like we did is good, but overall I thought the performance was poor and we're not accepting that. We've got a lot of work to put in for next week."
They certainly have because Friday night's home game against third-top Harlequins will be a massive test – win that and Glaws can say they have realistic top-four hopes, lose it and the Premiership season could be all but over for them.
More Gloucester headlines
Gloucester Poll