RWC Bars/Restaurants 1 - Paris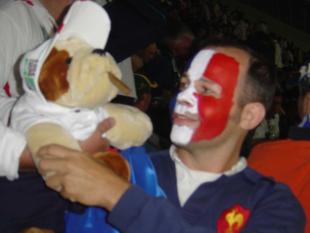 French Fan
By PariBar
July 18 2007
Rugby World Cup 2007 - First in the series on bars to visit whilst you are out and about across France during the tournament. First up this week is Paris, I have tried to give a different flavour throughout plus a mix of Wallabies and Bok rivalry. If you know of a great bar you want us to feature then please email me see contact details below... Rugby World Cup 2007
Rugby World Cup 2007 - Sports Bars
The 2007 Rugby World Cup will be kicking off in September and I thought one of the most important things you would want to know was? You guessed it where to get a decent pint and a bit of banter, so here goes this is what I have found up to now.
If you have advice on some great bars or places to visit during the Rugby World Cup, then please email me at rwcmod@hotmail.com
Ok here we go, starting with Paris.........
Eden Park Café
10 Rue Princess
Paris,
75006
Phone: +33 1 43 26 02 96
A rugby bar at Saint-Germain-des-Prés
Neighbourhood: 6th Arrondissement
Nearest Train: Métro: St-Sulpice
The best place in Paris to watch rugby on the big screen. The Eden Park Café is owned and operated by a group of ex-rugbymen from the Racing Club de France who, in their playing days, were collectively called Showbiz for their outlandish get-ups and wacky antics on and off the field. Today the bar is part of a growing empire that includes the Eden Park line of sportswear. The place is very nice with its wooden and metal décor.

More from the Eden Park Cafe Photo Gallery here
and then we have the
Check out their website here PUB O' PARIS
Pub O'Paris 15 rue Colbert, 7800 Versailles - Tel: 01.39.50.36.12 - Opening Hours 16h00 to 02h00
The Pub O' Paris is given over to Rugby and other collective sports. It is the place to meet friends to enjoy the Craic!. A huge television allows the customers to follow direct all important sports events. Walls are covered with lithographs on rowing, Boxing, Fencing, Cricket, without forgetting inevitable RUGBY!.
Le Kitty O'Shea's
10 Rue des Capucines Paris 2ème Station: Opera
Authentic Irish pub in the heart of Paris. Legendary across Europe as sports bar, especially for rugby
Moving onto the Frog Pubs
The Frog & Rosbif
116 rue St. Denis, 75002 Paris
Métro : Etienne Marcel
Tel : 01.42.36.34.73
Open every day 12h - 2h
The 1st and best English pub in Paris. More than 6 great original beers, all brewed here. A great place to watch the game: come and have a good shout at the referee! Funky bar with fab atmosphere, especially at the weekend. The Frog & Rosbif is in the 2nd arrondissement, just around the corner from the rue Montorgueil, the oldest market street in Paris. This is a beautiful, traditional English pub with a busy little brewery in the cellar. It is a popular & busy live sports venue, and on weekend nights the bar is bursting with a young and international party crowd.
The Frog and Princess
9 rue Princesse, 75006 Paris
Métro : St Germain des Prés / Mabillon
Tel : 01.40.51.77.38
Open every weekday from 17h.30 - 2h
Saturday & Sunday from 12h – 2h
One of the most happening and exciting bars in Paris. Great for a cold lager & big cocktails. Loud & enthusiastic sports venue. The Frog & Princess is situated in a beautiful part of Paris called St. Germain-des-prés. It is a cool, trendy bar with a professional & hip young anglophile clientele. International student nights burst at the seams and throughout the week all major soccer, rugby and NFL games are shown. If you are visiting Paris for the weekend, it is certainly worth taking
The Frog & Princess in, & if you are an expat living in Paris it is a great place to make your regular haunt.
Now then how do you fancy mixing it with the Wallabies and the Boks then? If you want to sample the Australian and South Africans hospitality then how about these.......................

Café Oz Les Halles
The city's most famous Australian pub is located in the heart of the lively Chatelet area. Their website is well worth a visit above.
Café OZ PARIS
18 rue saint-denis
75001 PARIS
Tél : 01.40.39.00.18

Café OZ BLANCHE
1 rue de Bruxelles
75009 PARIS
Tél : 01.40.16.11.16
And finally for the moment..........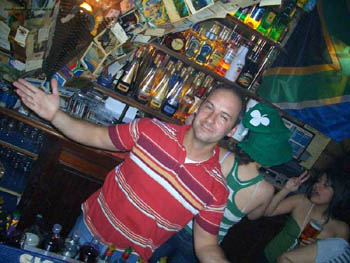 La Pomme d'Eve
1 rue Laplace
75005
Metro: Maubert Mutualité
South African Theme Bar, however on most days the crowd is mostly French. The bar staff are friendly and helpful. On weekends late night the place gets really lively. On other days the atmosphere is more quiet and relaxed. Shows various types of sport including rugby, football, NBA, NFL, Formula One on big screens.
Remember if you know of a good Bar email me
And here is the first recommendation to come in from Julia
You should definately check out two great places in the marais.
Stolly's 16 rue cloche perce - m° st. Paul
and
the Lizard Lounge 18, rue du bourg tibourg - m°hotel de ville
cheers,
Julia
***********************************************************************************