Scorpions claim narrow win over Skolars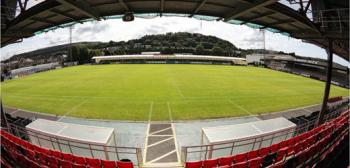 Poor performance
By Chris,
April 24 2011
The South Wales Scorpions claimed a crucial 20-18 victory over London Skolars – but the narrowness of the winning margin against the division's whipping boys will cause concern. 280 were at the Gnoll.
London were stronger during the opening exchanges; but the first-half was largely dour and the deadlock was not broken for some 32 minutes.

Andrew Gay crossed to seal the game's first points and Ashley Bateman followed over shortly afterwards as the hosts took a 10-0 advantage in at the break.

Christiaan Roets set-up youngster Dalton Grant shortly after the re-start, and a big home win looked on the cards – but the unfancied Skolars kept battling.
Dave McMeeken's converted try got the development side back into the game, before Dylan Skee had a score ruled out for offside.

Grant's second try with 15 minutes to go looked to have sealed it for Mark Rowley's side – but late tries from Austin Aggrey and Cariern Clement-Pascal set up a tight finish.

A schoolboy handling error denied London a dream comeback and a first win of the season in the closing stages.

The Scorpions clung on for a very unconvincing victory and currently sit eighth in the Championship One table.

Next up is Rochdale. The Scorps will be looking for revenge after the play-off loss.

Full Time - South Wales Scorpions 20-18 London Skolars
Attendance - 280
View a Printer Friendly version of this Story.
South Wales RL (IP Logged)
Unregistered User
Scorpions claim narrow win over Skolars
What do you think? You can have your say by posting below.
If you do not already have an account
Click here to Register
.
Reply•Quote
Rogero (IP Logged)
Registered User
Date Joined: Jun, 2006
Location: To the right of centre.
Posts: 4471

Re: Scorpions claim narrow win over Skolars
A win is a win and very much needed however where has everybody gone? I hope we can get some more bums on seats in Caerphilly as crowds are half what they were last season and doing some quick research we have one of the lowest average home crowds in the division.

Perhaps a break and a change will help.

Good luck to any going to Lancashire today, despite the defeat last season we had a good time there last year.
Reply•Quote
Dimebar (IP Logged)
Registered User
Date Joined: Sep, 2003
Location: Tondu
Posts: 182

Re: Scorpions claim narrow win over Skolars
The prices at the gate might have something to do with it as well. Even though it has been pointed out that our prices are one of the cheapest in this league, we are in effect, a development side. Ticket prices are too high for this club IMHO.

I brought my 'missus' down to the match for the first time this season. It cost £10 to watch (bought ticket in advance). After the game she said it was £10 too much.



Edited 1 time(s). Last edit at 2011:04:25:16:09:55 by Dimebar.
Reply•Quote
Bellefield Boy2010 (IP Logged)
Registered User
Date Joined: Dec, 2010
Location:
Posts: 111

Re: Scorpions claim narrow win over Skolars
I enjoyed it last season when it was £8 to get in and then you could purchase a programme for £2. I happily handed over my £10, as did the two lads I go with, now we just get one between us. It is a 50% rise in ticket prices (unless bought in advance) on last season.

Still it wont stop me going but then I like having a local Rugby League team to watch.
Reply•Quote
Sorry, only registered users may post in this forum.