Fan Power! Success for campaign for Caer change strip colour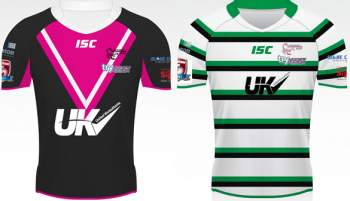 Green and white!
By Chris O'Brien
December 29 2015
Following an independent supporter-led campaign via this website and its messageboard, the club have embraced traditional Caerphilly RFC colours for the 2016 season's change strip.
The away jersey is white, with green and black hoops. It is accompanied by white shorts and green stockings, which sport black and white hoops.

The impressive kit will be made by ISC teamwear; and is anticipated to be available to purchase online shortly.

Sponsorship logos feature from Carstons Accountants, Globe Coaches, Chillipepper Signs, United Konsultants, Advance Complete Sports Services and Try Assists.

News of the Caerphilly-style kit follows a fan-run campaign via SouthWalesScorpions.com. Posts on the messageboard, alongside feature articles, proposed the idea - which the club subsequently embraced, instructing ISC, we understand, to amend a previous order in light of strong support from fans.

The forum has, of course, been backing the club since its inception and will continue to provide an independent outlet for supporters to discuss the sport, the club and other matters - such as this successful campaign.

Meanwhile, the rugby league 'V' featured on the home jersey will be welcomed by many supporters - with a pink V shape, and thin white chevron emblazoning the home shirt; along with black shorts and socks with pink trim.

Our club doesn't always get everything right - but these kits look impressive; and will help build anticipation ahead of an exciting new season at Virginia Park.