History of the club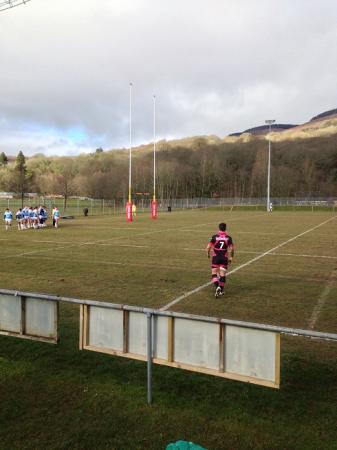 By Rogero
October 10 2018
I have noticed that Wikipedia is keen to merge articles regarding the West Wales Raiders. I have voiced my concern that the history of professional rugby league must not be lost and to this end I have put together the following - This fans website contains all the results and attendances too.
The West Wales Raiders are a professional RL club based in Llanelli following a move from Merthyr Tydfil. They play in the third tier of RL. The club was formed in 2009 as South Wales Scorpions, initially playing at the Gnoll in Neath before spells at Maesteg, Mountain Ash and Caerphilly.The club was rebranded as theSouth Wales Ironmen to coincide with the move to Merthyr Tydfil in 2017. In July 2017 it was announced that following a takeover the club would be relocating to Llanelli and play their remaining home matches at Stebonheath Park. From 2018 they are known as West Wales Raiders, the name of the club based at Stebonheath.
2006–2008: Origins
Many professional and semi-professional Welsh teams have played rugby league in the otherwise English competitions since the formation of the Northern Union in 1895. The most recent attempt to expand the game to South Wales began when the Celtic Crusaders joined the National League Two in 2006. The club was based in Bridgend at the Brewery Field.
The idea of a second professional side in Wales was discussed before the Celtic Crusaders had even played a game. The Crusaders' plan was to help a Welsh Rugby League Conference club join the National Leagues to act as a feeder club if Crusaders reached the Super League. The idea was also talked about in mid-2009 when the RFL decided that Super League Reserves would be turned into an under-20 competition, a move that could have halted the development of rugby league players in the area after they turned 21 years old.
The formation of the South Wales Scorpions was accelerated after the Celtic Crusaders left South Wales and moved to Wrexham. South Wales RLFC were formed by a consortium of businessmen led by Phil Davies in late 2009. They were accepted into the third tier of British rugby league for the 2010 season.
2009–2015: South Wales Scorpions
Several suggestions for a team moniker were made by various people. The club had a poll among fans online to choose between the various options. Scorpions proved to be the most popular choice with Crusaders just beaten into second place. On 22 December 2009, the club formally adopted the name South Wales Scorpions RLFC. An updated version of the logo was released in February 2010 following feedback.
The initial batch of players were selected from an open trial plus a few signings from other clubs. Some players were dual-registered with Crusaders RL and had played for the Crusaders reserves. Before a ball had been kicked, the club celebrated its first international players, Loren Quick and Lewis Reece, who played for Wales and Great Britain at under-18 level. Anthony Siebold who had been an Assistant Coach at Crusaders, was the first head coach.
The Scorpions' first ever competitive game was against Workington Town on 28 February 2010, who also provided the competition for Celtic Crusaders' first match in the 2006 National League 2 competition. The Scorpions won this encounter 22–20, in front of a crowd of over 500 at the Gnoll; with Lloyd White, on a months loan at South Wales from Crusaders, landing the crucial penalty goal to secure victory. The team went on to finish sixth in the table and made the play-offs. Seibold returned to Australia at the end of the season.
Wales Rugby League, agreed to take over the running of South Wales Scorpions for the 2014 season after Phil Davies decided to step down. Professional rugby league returned to the Bridgend county borough as Scorpions moved to Maesteg RFC.This move however would only last a single season as at the end of the season the club announced it would be moving to ground share with Mountain Ash RFC at Parc Dyffryn Pennar.
2016–present: Ironmen and West Wales
In 2016 South Wales Scorpions played their home matches at Virginia Park the home of Caerphilly RFC. Their final match of the season was played at Blackwood RFC due to a damaged playing surface in Caerphilly.
South Wales rebranded as South Wales Ironmen for the 2017 season as the club moved to Merthyr Tydfil. The town of Merthyr Tydfil was, at one time, the largest producer of iron in the world.
In July 2017, it was announced that after a takeover by Andrew Thorne, owner of amateur club West Wales Raiders Rugby League, the club would play the rest of their home games for the 2017 season at Stebonheath Park, Llanelli and that from 2018 the club will be known as West Wales Raiders and based permanently in Llanelli.
In April 2018, the club were on the receiving end of a record score and losing margin when they lost 0–144 to York, the previous highest scoring game was in November 1994 when Huddersfield beat Blackpool by 142–4, the losing margin was also equalled the next day in 1994 by Barrow who beat Nottingham City 138–0.
Honours
League
*Play offs 2010
Records
Team records
*Biggest defeat:
144-0 v. York City Knights atBootham Crescent, 29 April 2018
*Biggest victory:
70-16 v. Newcastle Thunder at Neath, 3rd July 2010
*Best season The initial season saw the South Wales Scorpions record nine league victories and qualify for the play offs in 2010.
*Record home attendance 1025 against North Wales Crusaders at Cardiff Arms Park
Social Media / Forums - This site run by supporters and not the club. This site contains all the first team results and attendances since the formation of the club plus up to date fixtures and results.
View a Printer Friendly version of this Story.
History of the club
Discussion started by South Wales RL (IP Logged), 10/10/2018 16:36
South Wales RL
10/10/2018 16:36
What do you think? You can have your say by posting below.
If you do not already have an account
Click here to Register
.
jd1664.
11/10/2018 12:52
A nice summary. It needed saying before the earlier years are air brushed out of history.
jd1664.
11/10/2018 14:20
If I had an issue with your article, it's that the accompanying photo seems to be of a Scorpion taking a conversion. That's been a pretty rare sight in the last couple of seasons........

How old is that?
Rogero
11/10/2018 15:41
It is v York 8th March 2015.

We lost 4-20 to York in the Challenge Cup. So the conversion kick was missed...
Rogero
11/10/2018 15:43
It really brasses me off that the history of the club has been forgotten about.
jd1664.
11/10/2018 16:31
Quote:

Rogero
It really brasses me off that the history of the club has been forgotten about.
If this were facebook I could have just ticked "like" but will have to settle for an
Agreed.
cast-Iron13
11/10/2018 19:35
Quote:

Rogero
It really brasses me off that the history of the club has been forgotten about.
Some would argue/suggest,that West Wales Raiders is a brand new club and not a follow on of the previous clubs.
A bit like when a rugby league club goes into administration and a new one starts.
Just because it plays at the same stadium and has the same name as the city,it is a new club.
Should it still be linked with the previous history of success?
I refer to Glasgow Rangers,in soccer,and Bradford Bulls,Leigh Centurions,and others,in our sport.
jd1664.
11/10/2018 20:31
It must be a successor club or it would not have (a) taken over mid season or (b) has the Scorpions places without a lot more due diligence
cast-Iron13
12/10/2018 18:26
Quote:

jd1664.
It must be a successor club or it would not have (a) taken over mid season or (b) has the Scorpions places without a lot more due diligence
Yea.I don't know what has gone on,obviously,but - if West Wales Raiders had lodged an interest in joining League 1 at some stage in the future,say,and then the RFL approached them and stated Ironmen were in trouble.If you help them fulfil their fixtures you can join League 1 earlier than planned by replacing them - that may have been what happened.
In the meantime,players who the club thought may have joined them - went off elsewhere.
Whatever,it's done now and the past can't be changed.
jd1664.
12/10/2018 19:15
My "take" last year was that the Ironmen moved to West Wales to complete the season (as Ironmen) and were to be rebadged (a la Scorpions to Ironmen) for 2018. Ergo we were, IMHO, persuaded that it was one big continuation.

I think you have to see it that way, though maybe it was a convenient fiction for the suits at RL HQ, for without that continuity and therefore the "right" to a place in League 1 then there should surely have been better due diligence on WWR's state of readiness.



Edited 1 time(s). Last edit at 2018:10:12:21:31:38 by jd1664..
Sorry, only registered users may post in this forum.