It's the Oxpreys!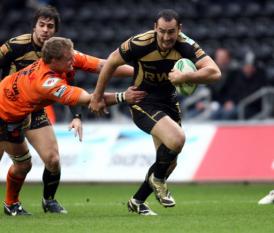 Sonny Parker
By Dragons' Den
July 9 2012
Earlier this year, after the shake-up of the Board, the smart money would have been on the London Welsh 2012/13 squad being bolstered by signings and loans from Scarlets. Instead of this we will see the Exiles start their Premiership campaign with at least two former Osprey players making up some of the new names in the squad.
When Bleddyn Phillips took over as London Welsh chairman and also retained his place on the Scarlets' Board it was only natural that London Welsh supporters took straight to the region's website and starting a mental shopping list of the fringe players that we would like to see at our end of the M4. Of course the lack of movement to date in that direction doesn't mean that such arrangements won't occur in future but they will almost certainly be eclipsed by the big names that have previously plied their trade for the Ospreys.

There have always been strong connections with Swansea, Neath and, more recently, Ospreys. This link could have been even more clearly defined in early 2010 when a joint initiative between London Welsh and the Ospreys was unveiled that would entail the sharing of resources and the London Welsh squad being based in Wales. The RFU quickly consulted their rule book and brought the plan to a halt.

Despite this there continues to be growing list that have both teams' names on their CV. Lyn Jones has been Head Coach the Exiles for the past 13 months, taking the job at ODP some three seasons after leaving Ospreys. On the pitch three former Ospreys players represented London Welsh last campaign; namely Mike Powell, Paul Mackey and Lee Beach. With Powell making the move to Moseley and Mackey seemingly out of favour it is likely that only Lee Beach will be taking the field at The Kassam Stadium with new signings Gavin Henson and Sonny Parker. It is possible that there could be a further player joining from the O's with full back Barry Davies rumoured to also be making the move.

One final connection is via the Boardroom. Paul Howells is a London Welsh Director and also CEO of Eteach who are now one third of the way through a three year deal to sponsor the East Stand at the Liberty Stadium. So even if everything else at The Kassam Stadium looks new then at least the Eteach logos will be familiar to the new signings!


Come on you Oxpreys!