RWC Match Preview - Wales v France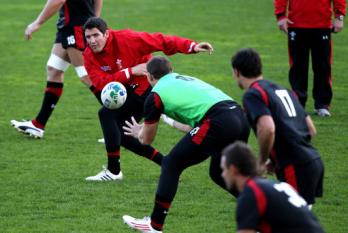 By Rhys Thomas
October 13 2011
Wales face arguably their biggest game in history tomorrow against the French. Can the boys in red reach the final?
The Final beckons. History will be made if Wales win on Saturday. They will do what no other Welsh team has done before them – get to a World Cup final.
The team stays the same as last week apart from at outside-half, where James Hook comes in for the injured Rhys Priestland. This is obviously unfortunate, but how many teams can boast a second choice fly-half of Hook's quality? Or even a third-choice of Stephen Jones? Priestland has taken this tournament by storm, but Hook is more than capable is filling the role. He moved there when Priestland was injured during the second England game, and started against Argentina. No doubt he's a class act, but he may be a little undercooked in terms of World Cup rugby so far. Stephen Jones is always on the bench if the ship needs to be steadied.
Everything else stays as was. The backline has it all, strength, flair and pace throughout. The back-row is a great combination, and will be very hard to beat at the breakdown. The tight five is functioning well, with a strong scrum and lineout. The battle with the French at the set-piece will be mouth-watering.
The Welsh have had many battles with the French over the years. William Shakespeare wrote about a Welsh King's battle with the French in Henry V. If he wrote it in the modern day, it may go something like this.
"Old men forget; yet all shall be forgot,
But he'll remember with advantages
What feats he did that day. Then shall our names,
Familiar in his mouth as household words,
Warren the King, Warburton, and North,
Roberts and Lydiate, Hook and Jenkins,
Be in their flowing cups freshly rememb'red.
This story shall the good man teach his son;
And Dewi Sant shall ne'er go by,
From this day to the ending of the world,
But we in it shall be remembered-
We few, we happy few, we band of brothers;
For he to-day that sheds his blood with me
Shall be my brother; be he ne'er so vile,
This day shall gentle his condition:
And gentlemen in Wales now a-bed
Shall think themselves accursed they were not here,
And hold their manhoods cheap whiles any speaks
That fought with us upon semi-final day."
Come on Wales!
PREDICTION: Wales to win by 9