RWC Match Report - Wales v Australia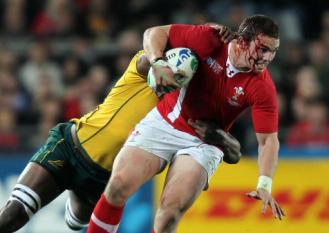 By Rhys Thomas
October 23 2011
Wales and Australia both wanted to finish their World Cup campaigns with a win. Which team could take 3rd place?
Another disappointing loss and it could've been different just for a few kicks – just like the rest of the tournament.
In the first 10 minutes, Australia put a fair amount of pressure on the Welsh line, just to be denied on two occasions. The first score came in the 12th minute, as Berrick Barnes took the ball over after a scrum on the 5-metre line. James O'Connor converted, and the Australian dominance continued. Wales weren't in the game much until they pushed up field and got a scrum five yards from the Australian line. A penalty ensued and James Hook put it over easily.
The mercurial Quade Cooper then went off with a leg injury, he's been lauded and criticised in equal measure, but it's certainly a blow for the Wallabies. Wales didn't take advantage of this, and O'Connor had a chance to further the lead after Paul James gave away a penalty. He didn't kick it, and it struck the upright. Things weren't going well for Wales, with George North going off with a blood injury and Hook failing to gather a high ball.
Leigh Halfpenny got a long-range attempt soon after, but missed, just wide. The score remained 7-3 at half-time. Wales were still within touching distance, and minutes after half time, Hook had an easy penalty pretty much in front of the sticks. He then went on to miss - a terrible effort that sums up his World Cup.
After some phases, the ball was flung out to Hook, who gave a (forward) pass to Shane Williams who kicked it along the floor and went over for the try. This gave Wales the lead, but Hook wasn't able to add the extras, again. Just after, O'Connor kicked another penalty, and then another only two minutes later.
Somewhat spurred into action, Wales came back, until Shane weakly attempted a drop-goal that went nowhere. Three substitutions were brought on, Andy Powell, Ryan Bevington and Lloyd Williams in an attempt to freshen up the Welsh side. With fifteen minutes to go, O'Connor got another chance at goal, but it dropped just short. That surely would've been the final blow for the Welsh. They got another chance though, and try-scorer Barnes slotted the drop-goal. All those missed kicks were adding up for Wales, as replacement Stephen Jones kicked an easy penalty. 16-11, Wales were still in this game but it wasn't looking likely that they would do anything to snatch the win.
Five minutes later, and Australia were attacking the Welsh line with vigour. They lost one opportunity when George North ripped the ball out of the Wallabies grasp, but it was to no avail, as back rower Ben McCalman went over. The conversion was missed, but the score was now 21-11 and there was no way Wales could win. The Welsh certainly had a go, and after 30 phases, Leigh Halfpenny was sent over in the corner for a consolation try. Jones converted to take the final score to 21-18, the Australians the victors.
So, after glorious performances and superb Rugby in the pool stages and quarter final, Wales went out with their tails between their legs. The kicking was the big letdown, with crucial kicks missed by Hook, Jones and Halfpenny. If those had been kicked we could be in our first ever final. Maybe they just don't have the composure at this level. The rest of the team were excellent aside from those kickers. Wales are gallant losers yet again, but that shouldn't be the tag given to this team, which went out with a whimper in Auckland.