It Had to Happen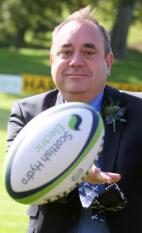 By Max Devo
January 30 2012
Five days to go before the Calcutta Cup and the politicians are lining up to get on the bandwagon led, of course, by First Minister Alex Salmond. He is in danger of becoming far too familiar and we all know where that eventually leads ..
So here's the quotes fresh from the bandwagon:
The First Minister said: "I'm backing the campaign to 'Turn Murrayfield Blue' for what I'm sure will be a great game. Calcutta Cup matches are always tremendous occasions and it would be great to see the whole country showing their support for the team on Saturday.

"I will be proud to be part of the thousands who will be there roaring on Scotland. "
Secretary of State for Scotland, Liberal Democrat MP, Michael Moore, said: "It's an exciting time for Scottish Rugby with the success in the league of Glasgow Warriors and the fantastic cup run that Edinburgh are on. It would be fantastic to see the whole country, whether at the game or not, backing blue and the Scotland team for the Calcutta Cup and for the rest of the 6 Nations. I wish Ross Ford and the team all the best as they go into the championship and I know all of Scotland will be supporting them."
Scottish Labour leader, Johann Lamont, is also backing blue for the big match: "The atmosphere of a Calcutta Cup match is difficult to beat and it will be great to see every supporter there backing blue. I'd encourage people around country to show their support for the national team not just for this game but for the whole of the 6 Nations."
Ruth Davidson, Scottish Conservative Party leader said: "I've long been a supporter of Scottish Rugby and can't wait for the RBS 6 Nations championship to get underway. I'll be backing blue along with the thousands of others who will be at Murrayfield for the England match."

Scottish Rugby's Director of Communications and Public Affairs, Dominic McKay, said: "It's fantastic to have the full backing of Scotland's political parties ahead of this this years RBS 6 nations.
"Having launched our "backing blue" campaign for this years RBS 6 nations we are encouraging all Scotland supporters throughout the country to make it an occasion to savour by wearing their colours. Don the famous blue shirt, bring saltires to the game just make sure you're backing blue be it at home, at the rugby club or at Murrayfield.

"The Calcutta Cup game is always special but to see the stadium awash with the national colours will be a great sight. It's something we'd urge fans to do whenever they come to Murrayfield. There are still a limited number of tickets left for the home game against France so everyone has a chance to get backing blue."
Now that's all out of the way can we get on with the sport.

More Six Nations 2012 headlines
Six Nations 2012 Poll