Varying prospects on second weekend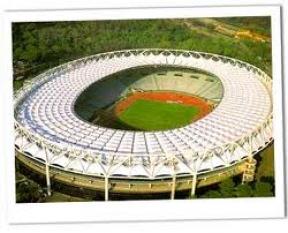 Olympic Stadium
By Couch Potato
February 8 2012
The Six Nations goes into its second weekend with more intriguing fixtures that offer the prospects of a possible classic, a possible upset and a possible walkover. The trouble is, predictions of that nature are rarely proved right.
The weekend starts in Italy late on Saturday afternoon when England are the visitors, the game switched to Rome's Olympic Stadium, where many people in a crowd of 72,000 will be anticipating an upset.
Italy are gradually getting better, and for a time England were gradually getting worse, culminating in their awful World Cup campaign in 2011.
But the new-look England repaired some of the damage when they began their 2012 campaign with a narrow and fortunate win in Scotland last weekend.
Italy will naturally fancy their chances and this will be a much tougher test of England's recovery from the New Zealand flop than it would have been in previous Six Nations seasons.
It could be tight and tense.
On Saturday evening, France are at home again, this time against Ireland, and they won't find it as easy as they did a week ago when their season started with a four-try victory under new coach Philippe Saint-Andre.
Ireland feel they were unlucky to lose at home to Wales last weekend and will be desperate to get it right, but of course France are always a tough nut to crack in Paris and not for nothing are they tournament favourites.
If Ireland hit form, though, it could be a cracker.
On Sunday, Wales are at home to Scotland – a team with ambitions to win the title against a side struggling to score tries and without the stand-off widely blamed for last weekend's home defeat against England.
Dan Parks has retired from international rugby after his kick was charged down for the game's only try by Charlie Hodgson, but of course it wasn't Parks's fault that Scotland failed to score when chances were there and blaming one man merely papers over the wide cracks currently running through Scottish rugby.
Wales, on the other hand, are on a high after a good World Cup and that win in Dublin last weekend – if they start well, they could score a boatload.
View a Printer Friendly version of this Story.
Varying prospects on second weekend
Six Nations 2012 (IP Logged)
08/02/2012 12:13
What do you think? You can have your say by posting below.
If you do not already have an account
Click here to Register
.
Re: Varying prospects on second weekend
08/02/2012 20:08
Interesting write up and a good read.

Not sure I agree with some of the comments about England. They did win the 6 nations playing some very good rugby in places only a year ago. Yes, the world cup was poor for many reasons that we dont need to go into again.

Playing Scotland in murryfield will always be a scrappy, error ridden game (dont know why, it just always is). Its good news for England that they will probably go through the tournament being largly written off before every game. Can only help bring the new team together.

Predictions, England by 9, France by 11, Wales by 11
Sorry, only registered users may post in this forum.
More Six Nations 2012 headlines
Six Nations 2012 Poll