Now The Dust Has Settled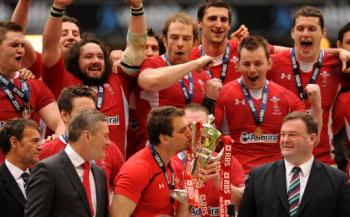 By Statto
March 20 2012
Not a vintage Six Nations perhaps but nevertheless a tremendously enjoyable one - specially if you are Welsh or even English ....
So where do they all go from here?
Wales 2005 star Kevin Evans believes his side can go on to global greatness
"In 2005, it was a lot more open game," he said. "We did not have a big set of players so we decided to use the high ball as a tactic.
"But in terms of competing with the Southern Hemisphere sides, this side has a better chance with their physicality, size and strength to compete at that level.
"They will not be overpowered like we were. We could compete with them on a skill level but just could not cope with their physicality.
"These boys have got the skills but now they also have the physicality to compete with the very best on a global level."
England's Chris Robshaw has similar ambitions:"Stuart Lancaster's plan will take weeks and years to get going but I think he's put us in the right light," said Robshaw.
"If we look back eight weeks and think if we were given second place and eight points, would we have taken that? Of course we would.
"Considering we haven't really played together and some guys we haven't really been in contact with before I think we've taken massive strides forward.
"Stuart said quite early on that he wants to rebuild a team and make sure the players will be up for the challenge ahead.
"Come the 2015 World Cup in England, we want to make sure we're the best side in the world and that's the aim and that's not something that is going to happen overnight."
French coach Phillipe St Andre is also uopbeat despite his ageing squad coming third: "The positive we have to take is the performances of the young players who we have tried out. We've discovered some like Maestri, Fofana and Buttin. Now we have to look towards the future. I'm confident about it.
"We won't wait to make the team younger but we want to find a balance. We've already put together a list of players. We will keep watching the end of the Top 14 but we need players with a good physical potential, otherwise they won't cope at international level.
"We had a fairly old team, it's true. But the World Cup runners-up deserved to play in the Six Nations. If I had the chance again I would make the same decision."
Ireland's Sean O'Brien is also surprisingly upheat: "I wouldn't agree that this is a team on the slide," O'Brien told the Belfast Independent.
"We've shown what we can do at times and it's just getting that consistency. The England game was a hard loss to take and that was the most disappointed I've been in an Ireland jersey. "That was pretty embarrassing and we're not too pleased about it.
"In this championship we've only beaten Italy and Scotland and that's just not good enough for this group of players.
"If we play to our potential week-in, week-out, we'll be a force to be reckoned with."
Italy's Jacques Brunel feels his side have the talent and now just need to add the workrate: "I think what we have to do is take all the positives from every game we have played and put it together," said Brunel. "Only like that will we be able to build a winning side.
"We have grown week by week and made less mistakes as the tournament progressed. There are margins for improvement and there is a good base for the future.
"Right now, we don't have the capacity to impose our play for 80 minutes but against Scotland we were on the right path. We will continue to grow if we work like we are doing."
Scotland were the woodden spoonists but according to back row David Denton they can also take positives:
"It's been a disappointing tournament for us and you could see that in the boys. We've put everything in, but we're going to be judged on results."
"I think we can be a force to be reckoned with."
"This has been the steepest learning curve I've ever experienced in my life and I think a lot of the other younger boys would say that.
"There's no doubt the talent that we have and we know we can take it forward."
View a Printer Friendly version of this Story.
Now The Dust Has Settled
Six Nations 2012 (IP Logged)
20/03/2012 13:30
What do you think? You can have your say by posting below.
If you do not already have an account
Click here to Register
.
Sorry, only registered users may post in this forum.
More Six Nations 2012 headlines
Six Nations 2012 Poll