Leinster's Lions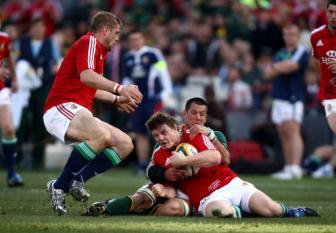 By Gary Watton
April 9 2013
With the forthcoming British and Irish Lions tour to Australia drawing ever closer, let's take a trip down memory lane and recall the Leinster players who have represented the Lions in test matches dating back to 1971.
Starting with the famed tour of New Zealand in 1971, prop forward Sean Lynch was selected for each of the four test matches on that successful tour.
Three years later, the great Fergus Slattery played a starring role in an even more triumphant Lions tour when the South Africans were humbled in their own backyard, failing to win a single test. Slattery appeared in all four matches. He would probably have played more Lions tests in 1977 and 1980 had he been available for selection.
Another prop forward, Phil Orr, the stalwart of Old Wesley rugby club, appeared in the first test of the unsuccessful trip to New Zealand in 1977. Meanwhile, another back-row forward, Willie Duggan was ever-present in all four tests of this series. Duggan, an unconventional 'athlete', reportedly told Bill Beaumont on his arrival in New Zealand that he would have been better off staying back in Blighty, a friendly piece of advice that warranted a ticking off from the management for our Willie.
On the ill-fated tour of South Africa in 1980, the notoriously superstitious full back Rodney O'Donnell was chosen for the first test. He didn't do himself justice in this contest, but that was to prove the least of his worries, because later in the tour, on the 18th of June he was involved in a head-on collision with Danie Gerber and reportedly did well to escape with his life! He had a Dr John O'Driscoll to thank for his recovery, as his Irish team-mate was on hand to cope with O'Donnell's near-fatal accident. In the final test match, John Robbie played at scrum half in a winning effort, deputising for fellow Irishman Colin Patterson who had recently suffered an injury which also ended his international career too. Furthermore, at the height of the Campbell versus Ward debate, Ollie Campbell played as fly half in the second, third, and fourth tests, after Tony Ward had been tried in the first test.
In 1983, Ollie Campbell once again was relied upon to fulfil the kicking duties on the whitewashed sojourn in New Zealand. The likeable Hugo MacNeill also took on the role of full back in the first two tests and then he appeared as a replacement in the final test of a series best forgotten by most Lions devotees.
The talented Brendan Mullin managed to play in the first test of the 1989 series Down Under, but was replaced thereafter in the face of stiff competition from the English and Welsh contingent.
No Leinster player represented the Lions in the test matches of the 1993 tour of New Zealand. Four years later however, Eric Miller followed in the Number Eight footsteps of Willie Duggan by at least making an appearance as a back row replacement in one of the test matches in South Africa.
Fast-forwarding to the 21st century, a young Brian O'Driscoll made a huge impact when he played in all three tests of the nailbiting series in Australia which the hosts won narrowly. O'Driscoll did at least record a try which was a warning to the rugby world of what this guy was capable of, as he has demonstrated on countless occasions since.
O'Driscoll had less good fortune in New Zealand in 2005 when he was the victim of a shameful spear tackle at the beginning of the first test which scuppered his whole tour, having been selected as the team's captain. Big Shane Horgan earned himself a couple of test appearances, whilst hooker Shane Byrne also appeared in two tests against the far superior All Blacks.
Finally, most of us can still remember the contributions of a Leinster quartet on the most recent Lions tour of South Africa in 2009. Jamie Heaslip played in all three test matches while Rob Kearney surpassed all expectations with his efforts in the three tests. Meanwhile Luke Fitzgerald played in the dramatic second test when he was on the receiving end of a disgusting attempt at eye-gouging by the Springbok flanker Schalk Burger. Last mention goes to the ubiquitous O'Driscoll who had to sit out the third test through injury after having put his formidable body on the line in the first two bruising encounters.
What, if anything, will be written about Leinster players on the imminent Lions tour of Australia? If he remains free of injury, I would expect Sean O'Brien and possibly Cian Healy to join the elite club of Leinster men who played test match rugby for the British & Irish Lions. Watch this space..........
View a Printer Friendly version of this Story.
Leinster's Lions
Ireland (IP Logged)
09/04/2013 13:44
What do you think? You can have your say by posting below.
If you do not already have an account
Click here to Register
.
Sorry, only registered users may post in this forum.