About the author, moi!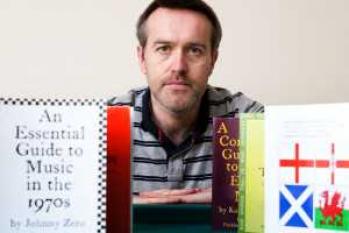 Gary Watton
By Gary Watton
April 22 2013
Below is an autobiographical piece about yours truly. I may never have been a good [let alone great] rugby player, but I do talk a good game. I also subscribe to the theory that great rugby players may not necessarily make great coaches, and that great coaches may not have been great rugby players. By the same token, the same logic applies to rugby writers. Great rugby players may not make great rugby writers, whilst some of the game's best thinkers may not have themselves excelled at the sport. That is my defence, and I'm sticking to it!
Gary Watton, the world's least-known celebrity, is a prolific author, commentator and historian of informative, non-fiction reference books. He was born in Fulford Maternity Hospital because there was no room at the inn. He is the product of a mixed marriage: his father was a man, and his mother was a woman, so he had a difficult upbringing. Anyhow, at the time of writing he has penned nineteen titles, covering such topics as cricket, politics, popular music, rugby union, and soccer. He is the first writer to compile a chronology of all post-war Ashes test matches; one of the first writers to produce an item on the Five Nations/Six Nations rugby tournament; the first writer to issue a book on the British Home Internationals' soccer tournament; and the first writer to complete a book which has 'pilfered' literally thousands of comments off YouTube!
He was educated at Harpur's Hill County Primary School and then Coleraine Academical Institution, County Londonderry whereupon he left with 3 A Levels in 1988. He then graduated from the University of Bradford in 1992 with a BSc 2i in Social Sciences (History and Politics). The following year he graduated again from the same institution with an M.A. in European Studies (West European Politics). After experiencing a variety of employment he developed his passion for writing. He has written most of his books under different pseudonyms, and his list of publications includes:
Chelsea FC Day by Day by Gary Watton
Chelsea versus Arsenal, the first 150 matches by Gary Watton
That Was The Decade That Was by 'Arthur TS Jackson'
The Song For Today by 'Jimmie Oliver'
An Essential Guide To Music In The 1970s by 'Johnny Zero'
A Concise Guide To Eighties' Music by 'Karl Vorderman'
England Football Team, 1946-2006, A Complete Record by 'John Bull'
The Ashes, 1945-2005, A Complete Record by 'Tony Wagtar' [anagram of author's name]
The Five Nations/Six Nations, 1970-2009, A Complete Record by 'Ian Bronderson'
England's World Cup Adventures Since 1945, A Complete Record by 'Talented Loser'
A Pop Revolution, the transatlantic music scene 1965 to 1969 by 'the invisible man'
The Home Internationals' Soccer Tournament, 1946-1984, A Complete Record by 'the King of 'Trivia'
A Bizarre Collection Of Puzzles by 'The Enigma'
The Celtic Fringe by 'Grant Toway' [anagram of the author's name]
You Are A Tube! by 'Steven Fried PLC'
Gary was a member of a successful Harpur's Hill primary school soccer team that won its league (the Killowen Cup) in April 1981 even though about seven of the eleven players were still in P6, a feat that surely will rarely be matched by any other primary school anywhere! He was also an undefeated member of the school's badminton team which also won its league the same year. A few years later in January 1984, Gary reached the last 32 round of the Ulster Under-19 Snooker Championships whilst only fourteen years of age.
Mr Watton is also a devotee of puzzles and quizzes, and he appeared on Channel Four's 'Fifteen To One' on December the 3rd 1997. In January 2006 he was narrowly defeated on a 'crucial conundrum' in a cliffhanger episode of 'Countdown'. http://wiki.apterous.org/Episode_4018 His opponent, Michael Bowden, went on to win his subsequent seven matches.
Mr Watton, who made a handful of appearances in London as a stand-up comedian in 2004 and 2005, has skirted around the periphery of the media, and thus far has been interviewed by Marie Louise-Muir for an edition of Radio Ulster's Arts Extra in late July 2008 to promote 'The Song For Today', posing under the nom de plume of Jimmie Oliver. He was then interviewed at BBC Broadcasting House in July 2009 on the morning of the First Ashes Test where he was quizzed arising out of his then newly-published Ashes book. His interview appeared on the 'Up All Night' show for Radio Five Live. More recently, Mr Watton was a guest on 'Pienaar's Politics' on Radio Five Live in July 2011.
In April 2012 Gary Watton submitted a request to the UK's Ministry of Justice to have the Royal Pardon posthumously bestowed upon Anne Boleyn, Catherine Howard, and Lady Jane Grey. He also requested that the UK government belatedly issues a statement which nullifies the nonsense crime of heresy against the Catholic and Protestant martyrs of the sixteenth and seventeenth centuries. Regardless of whether or not such appeals prove initially successful, Gary at least has made the first trailblazing moves to correct such miscarriages of justice. It may be that others will take on the baton to ensure eventual success.
In September 2012, Gary lobbied a number of MPs regarding the need to fine the next of kin who permit the funeral of their loved ones to be hijacked by a firing of shots over the coffin, as practised primarily by Irish republicans. Mr Watton is also intending to lobby UK politicians about the need to legislate on the subject of job application forms and make them more user-friendly by limiting the size of any application form to an absolute maximum of ten pages.
Meanwhile, the UK Public Lending Right agency revealed that Gary Watton's books have been borrowed 2,077 times between July 1st 2009 and June 30th 2012 by libraries in the United Kingdom. This author, who has been nominated as the most promising newcomer for the eighth year in succession by the Continuity Independent Runners' Association is a keen athlete. He is a leading participant at the weekly Portrush Parkrun, a 5,000 metres race which takes place on a beach.
He is also a racist: he particularly likes such races as the Grand National, the Derby, and the men's Olympic 100 metres. As an amateur 'athlete', Gary Watton became the first competitor to complete ten Portrush 5k Parkruns in November 2012. Finally, Gary is articulate and 'a bit opinionated', the latter arising out of his disdain for inequality and injustice. He is particularly offended by the accumulation of wealth, and as a practising Christian, he sees no connection whatsoever between luxury or wealth and the life and teachings of our Saviour, Jesus Christ. You can stalk this lovely person at http://gw930.blog.com