Hard Luck Stories: Ulster's rugby tragedies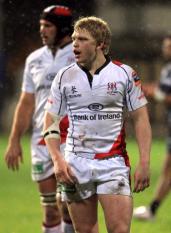 the late Nevin Spence
By Gary Watton
April 27 2013
The recent late-night antics of England's ex-fly half Danny Cipriani are a reminder of the fragilities of life, even for big, seemingly indestructible rugby union players. There have been at least half a dozen Ulster rugby players for whom fate proved somewhat unkind as they lost their careers [and in the case of young Nevin Spence, life itself] in accidental circumstances.
Of course, Ulster does not hold the monopoly on rugby misfortune. However, even acknowledging that other clubs and teams have had their moments of ill-fortune, it does seem extraordinary that such a small rugby-playing population as that of Ulster should find itself repeatedly on the receiving end of lady luck. Here follows a recollection of six Ulster players from the modern era who were sadly cut off in their prime.
First of all on this unenviable list is Bangor's Dick Milliken. Milliken had made such a great impression as Mike Gibson's partner in the centre of the Ireland team that when the British & Irish Lions team took to the field in South Africa in 1974, it was actually Milliken and not the famed Gibson who got the nod to partner Scotland's Ian McGeechan in the heart of the three-quarters line-up of that unequalled Lions team. Milliken's defensive capabilities shone as he ended the tour an unsung hero, save for a try in the tourists second test rout of the Springboks. By 1975 Milliken's stock was never higher, but just when he might have been reasonably expected to see out the rest of the decade in an Ireland jersey, he damaged his ankle, and in spite of an attempted comeback, Milliken's international career was over in 1975, a mere two years after it had been born.
Next comes Colin Patterson. This small scrum-half with a big, fearless Ulster ego was a scourge of opposing defences as he nipped in to record a staggering five tries in only eleven internationals. Colin would possibly have quadrupled his amount of Ireland caps were it not for a knee injury towards the end of the Lions tour of South Africa in 1980. This injury ended any hopes of further appearances for the Lions, Ireland, or Ulster. This was such a loss to all concerned.
The third 'victim' in this item is the least well-known, but his story is a particularly poignant one. Coleraine's Roger Anderson, who had already accumulated three Ireland schoolboy caps in the company of the likes of Bradley, Francis, and Mullin graduated on to play for London Irish, and in spite of fierce competition from the likes of Keith Crossan, big Roger also made a number of appearances for Ulster in the mid-eighties at the start of the province's golden era in the inter-provincial skirmishes. Then, the young man was selected to play in the 1986 Ireland trial match, alternatively known as the Probables versus Possibles fixture. Anyone watching this contest would presumably have remarked that barring catastrophe, that fellow will go on to represent Ireland. Well, catastrophe did indeed rear its ugly head as an un-helmeted Roger suffered a motorcycle accident whilst on holiday, and though lucky to escape with his life, his rugby days and promising career were well and truly over.
The next 'casualty' is Nigel Carr. Nigel had made a great impact in tandem with his Ards and Ulster team-mate Philip Matthews in the Ireland back row. Favourable comparisons were drawn with Ireland's seventies' stalwart, Fergus Slattery. Carr, touted as a future Lions flanker, then had the extreme misfortune to be in the wrong place at the wrong time as he and two Ulster colleagues, Irwin and Rainey, were travelling by car to an Ireland training session in Dublin when their vehicle was damaged in a fatal terrorist bomb attack near the Irish border. The injury sustained by Carr was far from life-threatening but it was peculiarly sufficient to end his rugby-playing career, weeks before he was due to represent Ireland in the inaugural World Cup in the southern hemisphere. Nigel at least picked himself up from his moment of misfortune and subsequently reinvented himself as a sports journalist and broadcaster on Ulster television.
The fifth hard luck story belongs to the prop forward Simon Best, brother of Ireland and Ulster hooker, Rory Best. Simon was advised several years ago by medical experts to walk away from his profession after a heart scare convinced those concerned that a prolongation of his rugby career could have tragic consequences. Best had both played for and even captained Ireland. He had much left to contribute to Ireland and especially Ulster, but he was obliged to be sensible and to take the advice.
Finally of course was the terrible tragedy of the autumn of 2012 when the outstanding prospect Nevin Spence lost his life in an agricultural accident. With his colleagues Darren Cave and Luke Marshall both playing for Ireland at centre in quick succession, the consensus of opinion is that Nevin too would have eventually been selected at centre at international level. It would be no exaggeration to state that Nevin's death cast a black cloud over British and Irish rugby in the closing months of 2012. His was the latest and most tragic in the litany of Ulster rugby's hard luck stories.
View a Printer Friendly version of this Story.
Hard Luck Stories: Ulster's rugby tragedies
Ireland (IP Logged)
27/04/2013 13:39
What do you think? You can have your say by posting below.
If you do not already have an account
Click here to Register
.
Sorry, only registered users may post in this forum.