Ireland Record Third Win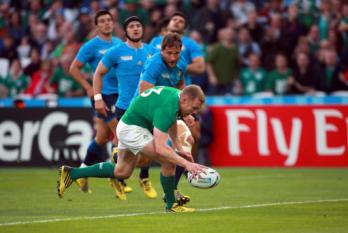 Earls Scores
By Gary Watton
October 2 2015
Highly-fancied Ireland produced an underwhelming victory against a dogged Italy at London's Olympic Stadium. In truth, a draw would have been sufficient if it had been followed by a win against France. Obviously a win with a solitary try is largely forgettable, but if Ireland are going to deliver an average performance, they might as well do so in the week before the France match than in next Sunday's le crunch in Cardiff. Congratulations are extended to Keith Earls for scoring a try, thereby becoming Ireland's record World Cup try-scorer, while young Iain Henderson was deservedly nominated as man of the match. France next Sunday will provide a bigger challenge, and one hopes that the bigger the challenge, the better our response.
Although a well-worked try for the slippery Earls didn't lead to an avalanche of further such scores, it proved crucially to be the difference between the two teams. Mention must also be made of Peter O'Mahony, a virtual passenger in the first half, who then produced a try-saving tackle after the interval, only to then jeopardise his team's chances by being rightfully sin-binned with about eight minutes remaining. Fortunately Italy fluffed their chance at a line out on Ireland's twenty-two, and Sexton and chums were able to clear their lines and have the good sense to play the final minutes in enemy territory. The yellow card is a reminder that any such repeat next week in the showdown avec France could be more severely punished. Ceding a one-man advantage to our Gallic neighbours for ten minutes could prove fatal.
Funnily enough, the current points difference in the group is such that Ireland could remain top of the pool even if the last fixture is drawn. France and Ireland have drawn two of their last four matches, and although a draw remains unlikely, it is psychologically useful to know that if we were perhaps three points in arrears in the dying minutes, then we only need a drop goal and not a try, whereas if les francais are trailing by three points in the last ten minutes, a drop goal or penalty would not suffice. On such fine margins the group decider could be determined. France have thrice beaten Ireland in World Cup encounters, but have failed to beat the Oirish in their last four tussles. One team is going to erase such foreboding statistics and in so doing will be rewarded by escaping a quarter final with the world champions and tournament favourites of New Zealand. All roads lead to Cardiff for the greens et les bleus. It could be a nailbiting thriller, or will it be a one-sided damp squib?
IRELAND 16 Italy 9; in London; Sunday the 4th of October 2015.
15 Zebo
14 Bowe
13 Earls [TRY]
12 Henshaw
11 Kearney.D
10 Sexton [3 Penalties; 1 Conversion]
9 Murray
8 Heaslip
7 O'Brien
6 O'Mahony
5 O'Connell (captain)
4 Henderson
3 Ross
2 Best
1 McGrath
Used replacements: Healy; White; Henry; Toner; Cronin; Fitzgerald.