An Historic Overseas Triumph!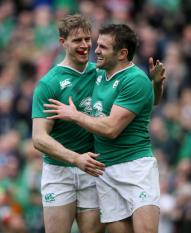 Ecstasy For Payne!
By Gary Watton
June 13 2016
Hot and cold Ireland blew extraordinarily hot on Saturday past as an inspired Rory Best and team pulled off a shock win in South Africa, the national team's first-ever test victory on South African soil. What made this milestone all the more remarkable was that the tourists, without several key first-team personnel, had to play more than half of the match with one less player, after CJ Stander had been shown a red card. However, a combination of stout defending and potent attacking, ably assisted by accurate goal kicking from Paddy Jackson helped the visitors to an astonishing win. Who needs Jonny Sexton?! Can Ireland go on to achieve a series win, or will they be on the receiving end of a Springbok backlash this weekend?
South Africa 20 IRELAND 26; in Cape Town; Saturday the 11th of June 2016.
15 Payne [TRY]
14 Trimble
13 Henshaw
12 Marshall
11 Earls
10 Jackson [three penalties, one drop goal, two conversions]
9 Murray [TRY]
8 Heaslip
7 Murphy
6 Stander
5 Toner
4 Henderson
3 Ross
2 Best (captain)
1 McGrath