Welcome Break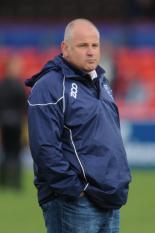 Mike Rayer
By Blues Brother
February 9 2017
Once upon a time a winter weekend without a Blues game was a frustration - this season it's a blessed relief ...
The demise of poor London Welsh, plus failure in the other competitions, means Blues supporters have little interest in this season other than in seeing how Mike Rayer and Co. are preparing to put things right for next season.
Losing Le Booj to a six week ban, followed by the humiliating 49-26 defeat at bottom club Richmond, has created a cloud over Goldington Road.
It would be great to think that the corner can be turned in the next league game but that's away at Rotherham a week on Saturday. It will be interesting to see how mahy Blues supporters make that journey up the A1. Not many, one suspects.
More Bedford Blues headlines