The Axe Is Wielded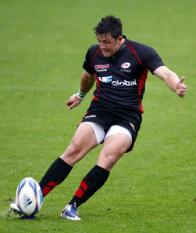 Sharp Return
By Blues Ed
March 3 2017
Half the team have paid the price for last week's defeat with Trailfinders.
Only seven players from that team will start at fellow "strugglers" Nottingham on Sunday.
George Perkins, Jake Sharp and Jordan Burns return to the backs with Sharp skippering, and up front Camilo Parilli-Ocampo, Ben Cooper,Justin Blanchet, Byron Hodge, and Josh Buggea all start.
Blues: 15. Elliot Clement-Hill 14. George Perkins 13. Piers O'Conor 12. Ollie Dodge 11. Howard Packman 10. Jake Sharp ( captain) 9. Jordan Burns 1. Camilo Parilli-Ocampo 2. Dan George 3. Ben Cooper 4. Will Carrick-Smith 5. Byron Hodge 6. Justin Blanchet 7. Josh Buggea 8. Paul Tupai
Reps: 16. Jacob Fields 17. James Hallam 18. Christian Judge 19. Mike Howard 20. Ed Taylor 21. Tom James 22. Myles Dorrian
More Bedford Blues headlines