Revenge Mission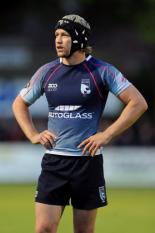 Dorrian
By Blues Ed
March 24 2017
Hopefully the big defreat by Saints last week will have sharpeneed the appetite for a revenge win over Scottish as league action resumes ..
The exiles won 13-10 at Goldington Road in the first fixture in a game where the Blues had enough possession to win.
Le Booj returns to skipper the side with Pat Tapley and Myles Dorrian adding even more experience in the backs and Jordan Onojaife and Jason Hill come into the pack.
Blues:15. Elliot Clement-Hill 14. Pat Tapley 13. Piers O'Conor 12. Michael LeBourgeois (captain) 11. Dean Adamson 10. Myles Dorrian 9. Jordan Burns 1. Camilo Parilli-Ocampo 2. Dan George 3. Ben Cooper 4. Will Carrick-Smith 5. Jordan Onojaife 6. Justin Blanchet 7. Josh Buggea 8. Jason Hill
Reps: Jacob Fields, James Hallam, Christian Judge, Mike Howard, Ben Adams, Jake Sharp,. Matt Gallagher
More Bedford Blues headlines