The Fun Continues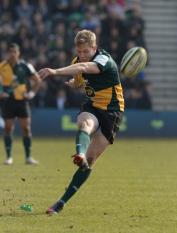 Hooley
By Blues Ed
March 26 2018
We are being served up some excellent entertainment this season. Doncaster Knights played their part in the 42-31 thriller and deserved their try bonus point but it was the mercurial Blues who triumphed once again ..
Donnie started the better and went ahead through David Nelson but we came back through Rich Lane only for Lesley Klim to restoree the vistors' advantage.
And that was the way the game went. Nip and tuck with plenty of adventurous rugby.
We took the lead for the first time in the 35th minute when Tom Lindsay went over. Will Hooley converted and adding a pen before the break.
The Knights got themselves back in it when Will Owen's try was converted by Flockart to cut the lead to three points.
Fortunately, Hooley's kicking boots hadn't been left in the dressing room and he added a pen before Lee Dickson's converted try meant we could all relax - a little.
Hooley made it 38-25 with another penalty before Alex-Shaw set up a tense finish with the 38-32 scoreline leaving us susceptible to a single point defeat. Fortunately, it wasn't to be with Hooley slotting a last ditch pen to give the scoreline a bit of gloss.
More Bedford Blues headlines