Trailfinders in Semi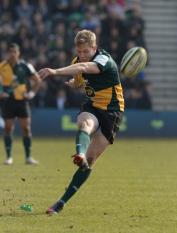 Hooley
By Blues Brother
April 2 2018
It's Ealing Trailfinders in the semi-final of the B&I cup after a tremendous backs to the wall win against a powerful Ulster A ..
Afte recent tryfests this was a much harder, but nevertheless enthralling, encounter with the Blues digging in to hang on to a deserved 16-10 victory.
Rich Lane got the try with Will Hooley knocking over 11 points.
Such was the tension as Ulster bombarded the Blues line at the end that things got a bit heated, with Howard Packman involved in a incident with the Ulster phsyio which meant the Blues finished with 14 men.
.
More Bedford Blues headlines