Pirates Sail Into Town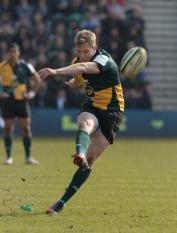 Hooley Returns
By Blues Brother
April 13 2018
Cornish Pirates are quickly becoming our favourite opposition. Games between the two sides generally involve try fests and as it's third v fourth at Goldington Road so expect similar this Saturday!
The Blues make loads of changes for the arrival of their nearest rivals.
Will Hooley, Michael Le Bourgeois and Dean Adamson start in the backs with Huw Worthington in for the injured Jarad Williams who has a badly broken thumb
In the engine room Sean McCarthy, Tom Lindsay, Ben Cooper, Jordan Onojaife and Alex Rae all return! We mean business.
Blues: 15. Rich Lane 14. Howard Packman 13. Rory Hutchinson 12. Michael LeBourgeois (captain) 11. Dean Adamson 10. Will Hooley 9. Jordan Burns 1. Sean McCarthy 2. Tom Lindsay 3. Ben Cooper 4. Jordan Onojaife 5. Will Carrick-Smith 6. Justin Blanchet 7. Alex Rae 8. Huw Worthington
Reps: George Edgson, Dave Spelman, Alex Penny, Ed Taylor, Ben Adams, Elliot Clement-Hill, Harry Sheppard
More Bedford Blues headlines