Debuts Boys at Notts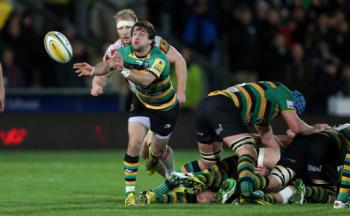 Dickson Skipper
By Blues Brother
August 31 2018
We have to wait an extra day for the league opener at Lady Park and let's hope it is worth it.
There will be two new faces in the starting line-up in - Ed Coulson and Fraser Strachan, who is on a dual reg from Saints.
Academy player Ryan Hutler starts out wide with Lee Dickson leading the team.
Blues:15. Rich Lane 14. Ryan Hutler 13. Ed Coulson 12. Fraser Strachan 11. Dean Adamson 10. Will Hooley 9. Lee Dickson (captain) 1. Sean McCarthy 2. Charlie Clare
3. Alex Penny 4. Will Carrick-Smith 5. Mark Flanagan 6. Alex Rae 7. Josh Buggea 8. Huw Worthington

Reps: Jacob Fields, Camilo Parilli-Ocampo, Ben Cooper, Oli Curry, Jarad Williams, James Lennon, Joe Green
More Bedford Blues headlines