All grunt, no glitter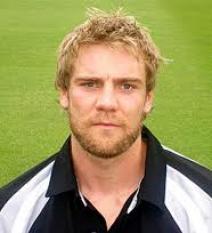 By Leipziger
October 10 2011
The Falcons certainly did not want for effort or heart on hopefully their last visit to Vicarage Road today, but there was a vast difference in quality between our team and Saracens that was not really reflected by the 25-5 result.
Missing all of our first choice front five from the starting lineup with James Hudson's suspension, this meeting with the champions was always going to be difficult, although Will Welch's late replacement with Redford Pennycook meant Andrew van der Heijden was on the bench, his first time in the squad since the opening day of the season following injury. James Hall came in for Ashley Wells.
Saracens started strongly, putting the Falcons on the back foot immediately, and the visitors were not helped throughout the match by a woeful lineout and problems in the scrum. It was surprising that it took 15 minutes for Saracens to score with their backs looking so dangerous, with quick hands and excellent use of dummy runners that the Falcons struggled to read.
Joe Maddock was the try-scorer on the far right, but Charlie Hodgson failed to convert. Within just a few minutes the Falcons hit back, Jimmy Gopperth floating the ball out to Corne Uys on halfway and the centre then unleashed Luke Fielden who fought over a tackler. Or so the big screen showed, the TV gantry blocked our view from the press box.
Gopperth also missed his conversion.
Their attacks frustrated, Hodgson knocked over two penalties, while the Falcons may have got some more points had a kickable penalty not been reversed for Tim Swinson's flying fists on the ground. The decision was probably correct, but I'm biased and it was just handbags, I've seen plenty of fisticuffs like that not penalised at all.
Alex Goode went over for Saracens on the left as he picked out a gap between Alex Tait and the bamboozled Fielden, and Chip had to be replaced with Greg Goosen. The touch judge may have stood on Tait's arm, though that's just me speculating.
Hodgson converted and Gopperth finally had the chance to score a penalty on the stroke of half-time, but yet another kick this weekend hit the post.
After the break the Falcons looked more composed on the ball and began to get a foothold in the Saracens half. After five minutes Uys found himself with what looked like a clear run to the tryline from five metres out, but inexplicably passed to Ally Hogg on the outside and the number 8 was tackled through the corner flag, in my (slightly restricted) view putting the ball down in touch in goal, and the referee agreed.
Saracens broke upfield quickly and James Short scored a converted try to take the game out of our reach, if it had not been already.
There was still half an hour to go I think, but it turned out to be an interesting one, with the Falcons almost scoring by the posts before the ball was allegedly knocked on under a pile of bodies. I say allegedly because I had a similar view to the referee and there were men in the way, but perhaps Luke Pearce could see over them when I couldn't.
Our players began dropping like flies and it is actually amazing that we ended the game with 15 men on the pitch. Fielden followed Tait off with injury, and then Ryan Shortland seemed to take a knock to the head, he certainly didn't look too clever. Richard Mayhew needed treatment three times at least, and the last time he went down, with about a minute to go, he waited the game out on the wing.
The Falcons did well to deny Saracens their try bonus point, something better teams than us will fail to do at Vicarage Road this season, and in the end Gopperth was probably right to end the game by kicking the ball out. No point risking further injuries when we had had perhaps two real try-scoring chances in the whole game.
As a fan there's nothing I like more than effort and commitment, and there was certainly plenty of that from our lads today. But sadly there was clearly a quality gap between the two sides. Maybe that's not surprising as Saracens are the champions and we stayed up on points difference last season, and the fact that although we were both missing good players, their replacements will naturally be better than ours.
But we still had some talent out there today, it just wasn't working. There was no leadership in the lineout when Saracens were stealing or at least disrupting almost every throw, and our support players were so, so slower at getting to breakdowns than the home side's, especially in attack. I don't think we conceded too many breakdown turnovers today, if that is right then it's quite amazing.
I presume this was a game we were looking to win, it certainly should have been given our position. It hasn't happened, so we need to find out why and quickly because in many ways the Premiership is a short season. We are almost a third of the way into it already and with only five points.
We now have two weeks in the LV= Cup to try to get some confidence and momentum together before going to Northampton and then what is looking like a game we dare not lose – Worcester at home on 4th November.
Onwards and upwards. I think.